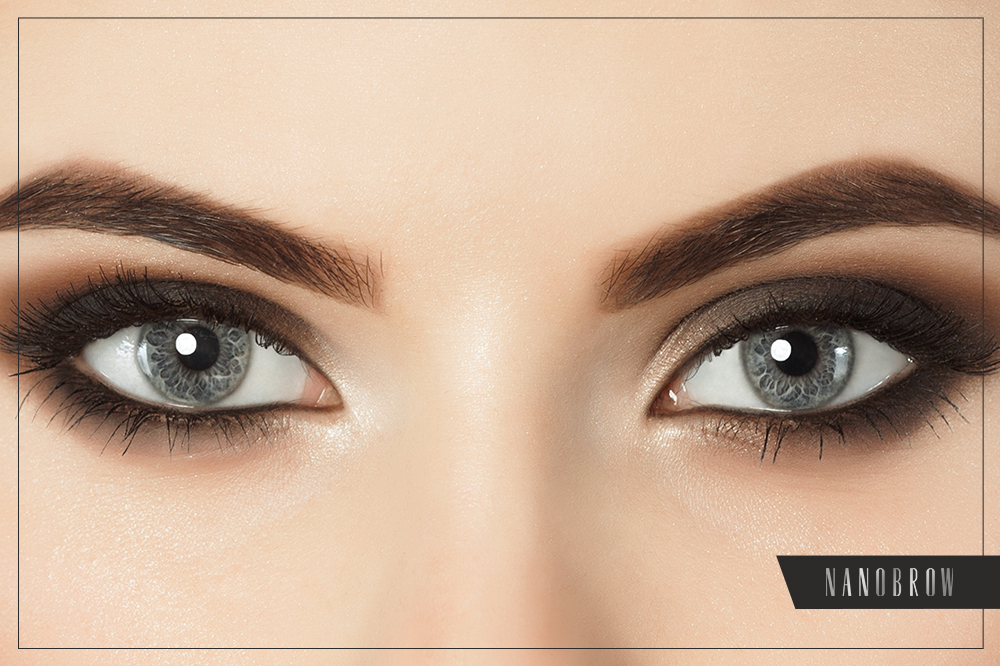 Dream of beautiful brow makeup but you're unsure of your makeup skills? Start with comfortable products and go for brow powders! This is the easiest brow makeup method, which you can master in one afternoon! Choose a good quality brow powder kit with wax and get to work - check out our tutorial and see how easy it is!
Brow powders - perfect first brow makeup kit
Brow powders are great for anyone new to eyebrow makeup. Remember to choose matte powders, with good pigmentation, preferably in two shades. Ideally, the kit should contain two coordinating shades and clear wax, which allows you to create different makeup effects and ensures your makeup stays put for longer. The two coordinating shades deliver a beautiful and natural-looking effect.
Why choose powders for brow makeup?
Brow powders are the perfect solution for subtle and non-overdrawn eyebrow makeup. Doing your makeup with powders ensures the perfect shape of your arches, while gently emphasizing and defining them. The texture of the powders allows for easy touch-ups in case of any imperfections. Brow makeup using powders ensures your face maintains perfect proportions and highlights your features. The most important thing is to choose the best brow makeup kit. It must contain natural-looking shades and deliver long-wear effects. It should come with built-in wax or highlighter with soft formula and satin powders with excellent pigmentation. That's exactly what Nanobrow Eyebrow Powder Kit is. It's a great palette for brow makeup, recommended for both professional and home use.
Brow powders and wax - why use them together?
Eyebrow wax is included with brow makeup palettes for a reason: it's a great option when you need great durability or if your eyebrows are unruly and difficult to style. Then it's a good idea to style them with wax before applying powders. This product perfectly tames them and eases further styling while delivering strong hold, making them look great for hours. In addition, good wax conditions, nourishes, and protects your brows from damage, and leaves them looking thicker and fuller. More importantly, the wax is simply a great base for powders - it extends their durability and ensures a natural-looking finish. Without using wax as a base, you wouldn't be able to fill in the gaps and sparse areas as the powder wouldn't stick to the skin properly or the effect would be short-lived.
Eyebrow powders with highlighter - the perfect brow makeup kit
Some powders are so perfectly pigmented and spreadable that they don't even require the use of wax. They cling brilliantly to the skin and brow hairs, are highly saturated, and deliver great comfort while doing your makeup. The best palettes come with a highlighter instead of wax. It should be applied just below the brow bone, below the lower brow line. This trick beautifully highlights the entire brow and gives a brow lift effect, ensuring a fresh and youthful look. Makeup artists refer to this trick as a brow lift without a scalpel!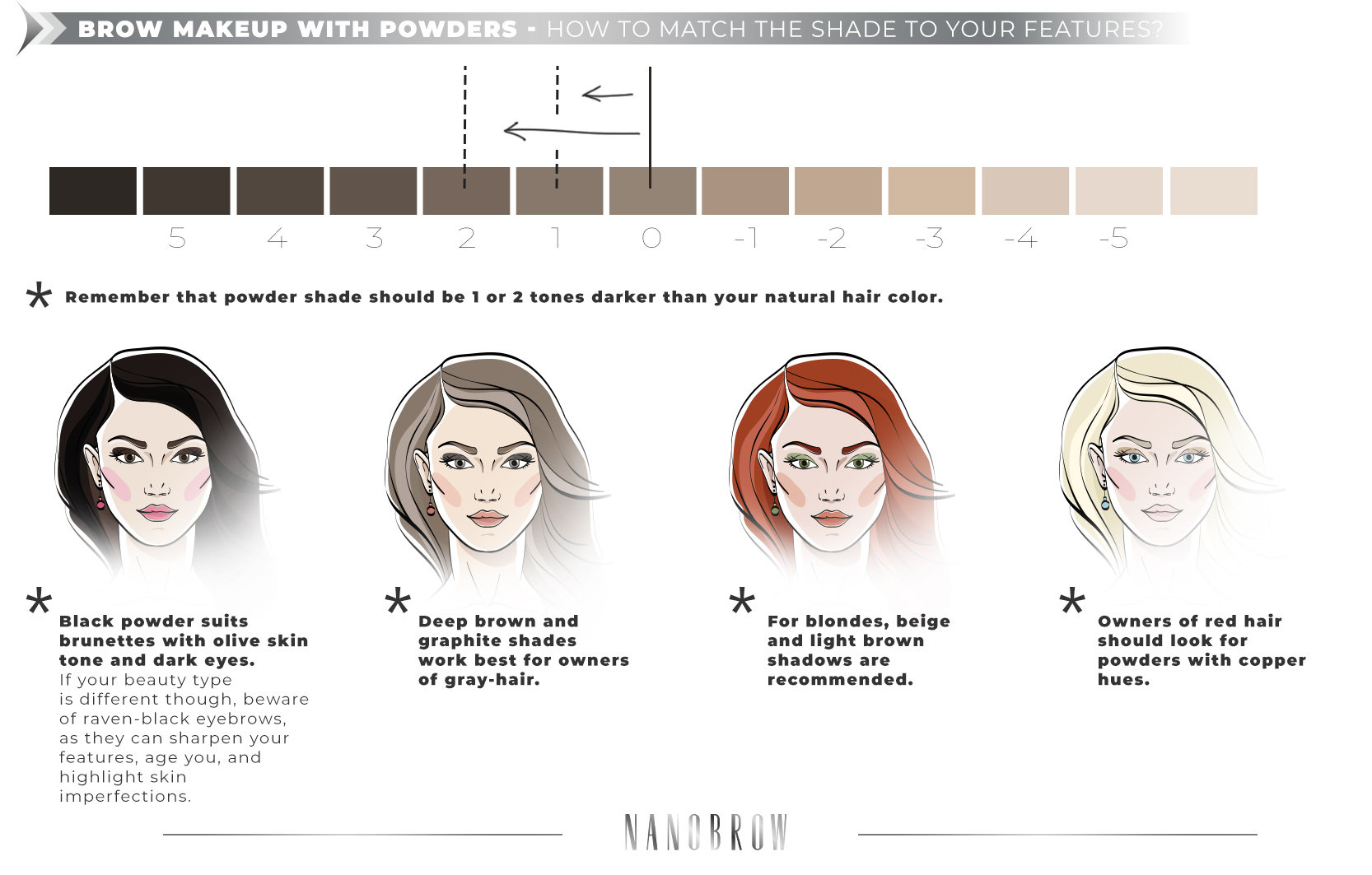 Brow makeup tutorial with powders and wax - a step-by-step guide
1. Brush your eyebrows thoroughly with a dry spoolie. Do it with the direction of their growth.
2. If your kit contains wax, scoop a bit onto the brush and apply it to your eyebrows in short strokes, shaping them into the desired shape. If you fancy a more defined effect, add another layer of wax.
3. Go for a brow pencil, pen or pomade and gently outline your eyebrows, accentuating the lower and upper brow line. Remember to maintain the right proportions and brow symmetry to match your features.
TIP
If you're doing your makeup using only a brow powder kit, you can outline your arches with powder mixed with wax - the wax-powder consistency is malleable enough to create clear strokes on the skin. For this purpose you'll need a small, flat, slanted brush - it's perfect for creating thin hair-like strokes.
4. It's time to fill in the brow. Using the darker shade of the powder fill in the tail. Avoid getting the powder on your cheeks and anywhere beyond the outlined line.
5. Gently glide the powder towards the middle of your arch - try to deposit less dark powder in this area.
6. Now get the lighter shade powder and apply it to the middle part of your arch. Work your way in the outward direction to the outer brow edge. This area should be just gently highlighted. The soft shading effect ensures a natural and professional-looking finish!
7. The final touch is to set your eyebrows with a transparent or tinted brow gel. This trick will emphasize the hairs even further, tame them, and keep them in check throughout the day. Remember to keep it subtle - you want to prevent the powders from smudging. You can further define your eyebrows with a bit of highlighter: apply it and gently blend it below the brow bone. That's it! Your beautiful and perfect eyebrow makeup using powders is ready!

Can you use regular eyeshadow for brow makeup?
Many people ask this as brown eyeshadow generally comes in every makeup palette. Are eyeshadows suitable for brow makeup? In general, not really - usually they have a slightly different formula and often contain shimmering particles or they come in shades not compatible with natural brow colors. Therefore, in most cases, brow powders simply work better, as they provide even coverage and deliver a natural-looking finish.