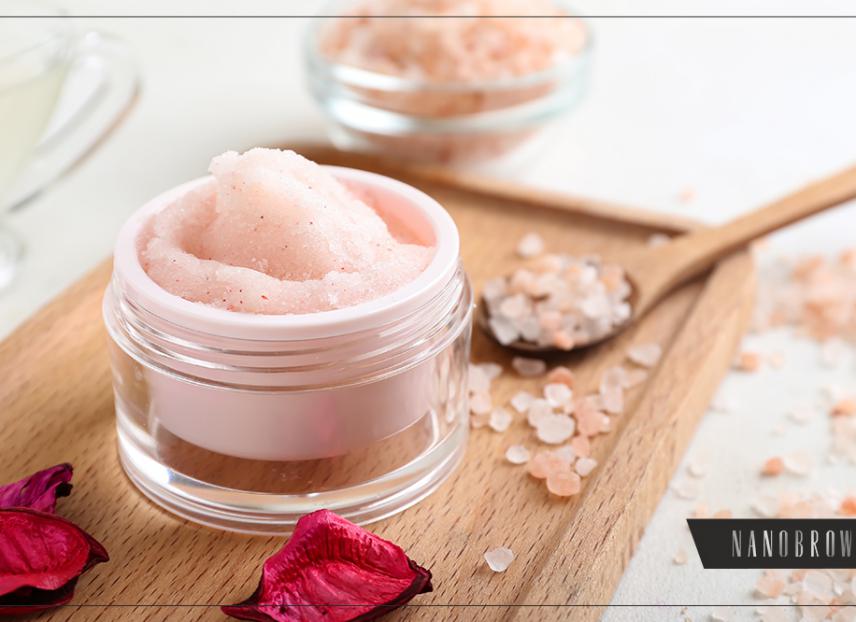 Did you know that brows - just like hair - need care and regular cleansing? That's what brow exfoliation is for. It isn't just some passing fad! Learn more about eyebrow exfoliation, what benefits it brings and why it's worth trying.
What is brow exfoliation?
Eyebrow exfoliation is a beauty treatment that we do in order to remove dead skin cells and cleanse the brow area. It also stimulates blood flow triggering brow growth, and stops ingrown hairs from occurring. It's a good priming step before tinting or other brow styling treatments, an amazing addition to eyebrow lamination.
Why should you exfoliate the brows?
Brow exfoliation may seem unnecessary and not important but it turns out to be useful for many brow care and stylization treatments. Cleansing and removing dry epidermis is essential before brow tinting - a scrub ensures even coverage. Also, it's great before brow lamination to heighten the effects.
Encouraging eyebrow growth is another big function of a brow exfoliator. If your brows grow slowly or don't grow at all, then you can stimulate the process with a scrub which activates hair follicles and triggers faster regrowth of brow hair. The regular use of such an exfoliator is the key to success. Your brow care products - for example eyebrow serum - will sink in the skin more easily. Beyond that, you will forget ingrown hairs and enjoy easier brow make-up - the products cover the brows evenly. Make-up always looks better on smooth, deeply-cleansed face.
Ingredients which should be infused into a brow scrub
An effective brow scrub includes abrasive substances plus ingredients for conditioning, moisturizing and smoothing. The most popular components in a brow exfoliator include:
Oils - unrefined, cold-pressed oils and butters, for example shea butter, argan oil, castor oil or sunflower oil which are rich in omega-3 and omega-6 fatty acids, flavonoids, plant sterols and many vitamins. They work by preventing free radical damage, strengthening the brow hair, adding elasticity to skin, and protecting the brows from damage. Castor oil has an extra growth-accelerating effect.
Waxes - usually, beeswax or carnauba (vegan substitute for beeswax) - add smoothness, moisturize and hold water molecules in the skin.
Citric acid or other AHA acids - remove dead skin cells and hyperpigmentation.
Sea buckthorn extract - rich in antioxidants, adds elasticity and plumps the skin, repairs and deeply nourishes. It abounds in vitamins A, E, and minerals: potassium, magnesium, calium, iron, copper, zinc, chromium, selenium.
Sea water - delivers moisture and minerals.
Glycerin - creates a protective coating to maintain hydration and prevent dryness.
Bamboo particles - they exfoliate the skin, clear the pores, remove dead cells and dirt.
Aloe vera extract - has anti-inflammatory and antibacterial effects, repairs and hydrates, stimulates faster cell renewal and soothes irritations.
How to exfoliate the brows?
It's very easy. You do it just the way you use a face or body scrub. Apply a proper amount of a scrub on wet skin and massage it using circular motions. Remember to remove make-up first - the brow area must be clean. Some scrubs lather. Last of all, you rinse the product out using water or wipe it off using a wet cotton pad.
Which brow exfoliator to choose?
How to choose the best brow scrub? Many girls think a face scrub will do. However, it may be too harsh on the brows and contain too hard particles. A brow exfoliator should be mild and have fine-grain particles not to harm the fragile hairs. Also, make sure it is rich in natural botanicals and soothing ingredients. Drugstore products are designed for producing maximum effectiveness. They include exfoliating particles and brow-nourishing ingredients.
DIY Brow Exfoliator - Recipes
You can buy a brow scrub at a store or do it yourself. Quickly and easily. Keep reading for inspiration.
Honey & Castor Oil Brow Exfoliator
half teaspoon of honey
half teaspoon of castor oil
teaspoon of salt
Mix the ingredients until the mixture is smooth. Apply it onto the brow area and leave it on for 10 to 15 minutes. Wash it off using warm water.
Aloe & Lemon Brow Exfoliator
teaspoon of aloe gel
teaspoon of finely-grained rolled oats
teaspoon of lemon juice
a pinch of salt
Mix the ingredients. Apply the scrub on the brow area and massage it using circular motions. Wash it off after a minute or two using warm water.
Coffee & Shea Butter Brow Exfoliator
teaspoon of shea butter
teaspoon of coffee grounds
half teaspoon of castor or argan oil
Mix the ingredients and massage the scrub into the brow area. Wash it off using warm water or a wet cotton pad after a minute.
Eyebrow Exfoliation - Effects
It stimulates blood flow so the brows grow more quickly.
It clears the skin and frees it from pollutants and toxins.
It makes all eyebrow products produce better effects.
It allows nutrients to penetrate the skin and brow hair more easily.
It strengthens hair follicles so the brows stay in perfect condition.
It leaves the skin and brows soft as silk.
It upgrades the effects of tinting.
It primes the brows for various treatments.
Can you exfoliate the brows before and after permanent make-up?
Eyebrow exfoliation shouldn't be done before permanent brow make-up. You should give up on it for seven days before the treatment. Why? After exfoliation, the deep layers of the skin are more prone to allergic reactions.
Permanent make-up is a tattoo which in a way traumatizes the skin by affecting its deep layers. This means a higher risk of infections and allergies. That's why we mustn't use brow exfoliants for two weeks after getting permanent brows. We need to wait until the brow area is fully recovered.