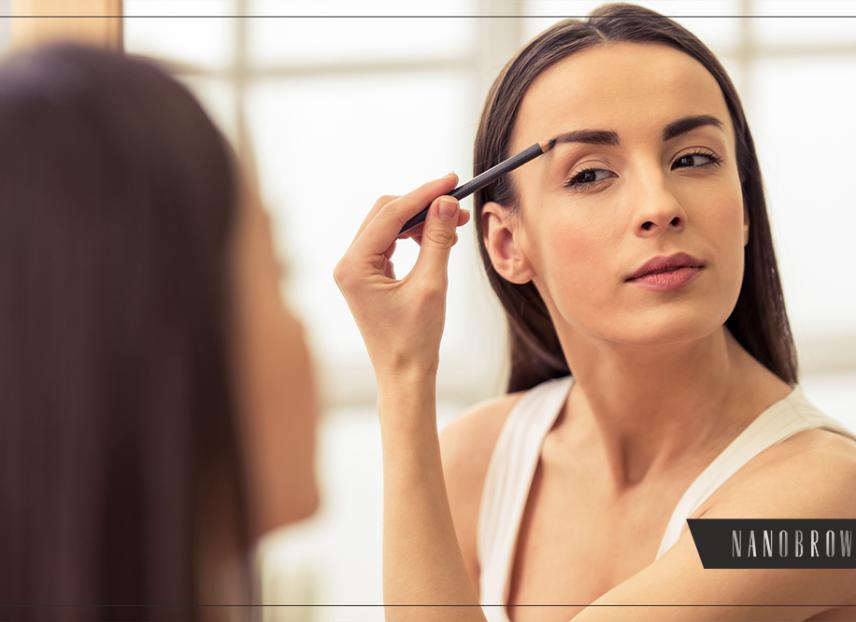 The brow look and make-up trends keep changing. Some of them are quite untypical. If you like to stay updated with the latest beauty fads, then keep reading - check out the hottest brow make-up trends. Will you get inspired?
Bold brows
This has been the wanted look for many seasons. Women love bold brows. We're not surprised - such make-up looks gorgeous enhancing the face features and taking years away. A brow pomade is best for getting the look - you can build up the effect throughout the length of brows. It also allows you to draw some missing hairs. You can slightly smudge it or create a shading effect to make the brows look natural. Brow pomades are long-wear and very easy to use so we can use them on the thinnest and most patchy brows.
Dipped brows
Summertime is about fun and outdoor concerts. The colorful look is a manifestation of freedom and joy - we can get it through colorful clothes but also make-up. Do you know one of the hottest trend on summer events - dipped brows? It's daring! Dipped, or colored brows - if done properly - make you look charming. They may not be the best idea for work but for a festival or carnival - why not?! To get the look you either use one color (ideally brow cream) or several colors for smooth progression of hues. Applying the color just on the tail of brows is trendy too. Preferably apply the products using a thin, angled brush. What color to go for? Choose colors which go well with your skin tone and the outfit. There are endless possibilities to try. Let the imagination go wild! Remember to set the effect with a clear gel - you'll be sure your brows will stay fleek through the summer party!
Disco brows
Let's stick to the color and gloss! Dipped brows isn't the only festive brow trend. Disco brows are wanted too. Girls with glitter on the brows are in night clubs all over the world! You can get the look easily: apply some clear gel on the brows and sprinkle them with glitter or glittery brow powder - gold or silver - before the gel dries. There are also special glitter gels that you simply apply on brows and make-up is done! Disco brows let you play with make-up and not get too serious.
Make-up faking microblading
Microblading-style make-up is one of the trends which still continues. It's an alternative to the painful semi-permanent make-up which involves cuts on the skin and inserting the ink to fake our own brows. Make-up artists show us we can get a similar effect which is easily removed later on. It's possible if you've got a super-thin brow pen - the precision tip is saturated with pigment. You can use it to fill in the brows and camouflage the gaps. The hairs you draw will look like your own brows. A good brow pen is extremely long-wear, highly pigmented and precise. You can build the effect easily. It also allows you to outline the brows and highlight the lower line.
Ombre brows
One of the most popular and gorgeous brow looks! It allows you to precisely define the brows, making them look natural thanks to the blending of hues. The head of the brows is lighter and more subtle and smoothly progresses to darker and bolder color with the boldest tail of the brow. You can easily create the ombre brow make-up using pomades in two colors or special brow powder and wax. That's not hard at all. Just remember to use quality products because the formula and pigmentation are the key to success.
Wavy brows
This wacky look is really trendy on the net! Wavy brows are definitely the option for a wild party or carnival - it doesn't seem a good go-to make-up. How to create the effect? First you cover the brows with a concealer. Next, use a brow pomade or pen to draw the brow hairs creating a wavy line. Try to draw thin, tiny hairs to fake your own brows. To make the look last all party, set it using a clear or colored brow gel.
Fluffy brows
Bushy and fluffy brows are extremely popular too. A brow soap or gel is used to keep the effect for as long as possible. Fluffy brows have taken over Instagram. Make-up artists suggest making the brows fluffy throughout their length - feel free to get carried away! The fluffier and messier the hairs, the better. You'll get the best effect if you don't tweeze for some time. Also try combing them in different directions for a more fluffy and bushy look.
Backcombing
Fluffy brows were the inspiration for so-called backcombed brows - they caught on fast! By backcombing the hairs - opposite the natural direction of growth - you build their volume. All you need is a quality brow brush and styling soap. A good brow gel for hold also comes useful. You can also add some color with a brow powder, for example. Your brows will get fuller and somewhat tridimensional. As a finishing touch you can fill brows using a brow pen or define the lower line. In comparison to fluffy brows, backcombed brows are more lifted and fuller and can be colorful while fluffy brows are more subtle and natural.
No brows make-up
This trend is the opposite of thick and bold brows. Lightening the brows so they're barely visible is also popular. No brows trend focuses on enhancing the eyes and lashes. However, you need lots of courage to go for permanent bleaching of brows. Make-up artists make a safer option popular - applying make-up, not bleach. You need to apply a nude concealer on the brows and comb them. Sometimes you'll need to apply more than one coating. It depends on the color and thickness of your brows.
Straight brows
It's trendy on TikTok. Straight brows settled in quickly - they make us look bolder, slenderizing the face features at the same time. This trend is a combo of make-up and styling - you may need to pluck the hairs to get rid of the natural arched shape. You may also need to draw some hairs to create the straight line. A brow pomade, pencil or pen are cut out for this purpose. Make-up artists promise this make-up produces face lift effects!