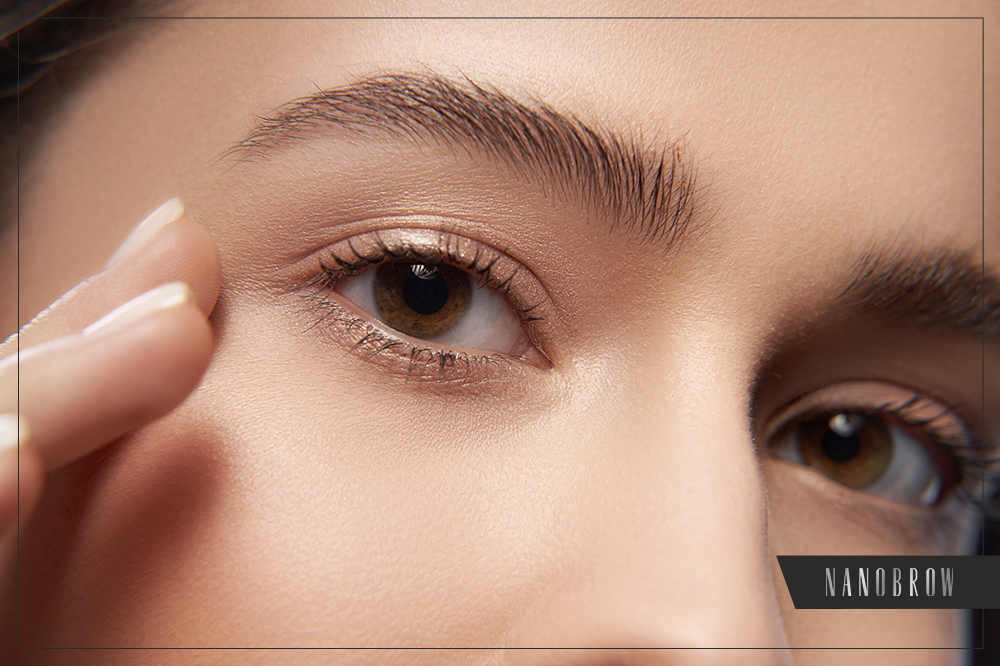 Are your brows thin and sparse? You're waiting for them to grow back but nothing's changed for many months? Many women complain about attempts to regrow their brow hair for years. 'Why won't my brows grow back?' is one of the top questions at beauty salons. Can you make them grow faster? Learn how to grow fuller brows quickly - read on for the best methods.
Why won't my brows grow?
There are many reasons why eyebrow hair doesn't grow. The most common causes are:
Improper care of the eye area: wrong skin care and make-up removing products may cause allergic reactions and irritate the hair follicles. Overuse of different cosmetics or using them wrongly may be the cause too. You should also think if you remove your eye make-up gently enough.
Age: the aging process that we all go through affects our good looks, also the state of the brow hair. The eyebrows get weaker and the quantity of hairs declines as we grow older.
Some treatments: overplucking, failed permanent make-up or wrongly-done lamination, among others.
Weak immunity: this often appears through worse skin, hair loss and thinning brows and lashes.
Weather conditions: frost, strong sunlight, air pollution, smog may have a bad effect on the condition of the brows.
Chemotherapy: cancer treatment and medications cause the loss of hair, brows and lashes.
Some pharmaceuticals: especially, long-term antibiotic treatment.
Deficiency of vitamins and nutrients: deficits of vitamins, minerals and omega fatty acids worsen the state of brows.
Some skin and scalp conditions: alopecia, atopic dermatitis, seborrhoeic dermatitis, psoriasis and fungus.
Hormonal imbalance: for example during pregnancy or after giving birth.
Mites: parasites living in hair follicles.
Can brows just stop growing?
Brow growth is naturally slow, but if you regularly pluck the hair, then it is possible that brows will simply stop growing back. Many women struggle with this problem, especially those who followed the skinny brow trend in the 1990s and tweezed their brows to get the super-thin arches. Thankfully, there are treatments and products which stimulate growth and may help regrow new hairs.
Causes of thin brows
Brows falling out in excess is another popular gripe. Naturally, you shouldn't be worried about losing two hairs per day. However, if you spot gaps in the brow arches, then you should take action. Losing brows usually is caused by the same thing as stopped brow growth - in both cases it's linked to disturbed anagen growth phase.
Brow growth stages - life cycle of eyebrows
To understand why brows stop growing, we should know their phases of growth. There are three of them.
Anagen - the time when hair grows and cells proliferate in the hair matrix. For brows, it takes from one to two months. Around 10% of brow hair is in the anagen phase.
Catagen - takes from one to two weeks; hair stops growing.
Telagen - takes from two to four months; the so-called resting stage, right before the hair falls out.
If the hair growth isn't disturbed, then all the phases happen at the right time (a tiny hair grows around 0.40 mm per day). Unfortunately, because of the above-mentioned factors, the brow life cycle may be distubred, which lengthens the telogen phase and prevents anagen. Consequently, the brows don't grow back for many weeks or months.
How to make the brows grow back?
What are the ways to stimulate eyebrow growth? How to grow brows which don't want to grow? Can we speed up the growth process? You probably ask those questions if your brows are thin and sparse. It turns out there's a lot we can do to get better, prettier brows.
If possible, try to eliminate all things which have a bad effect on the brow growth.
Go through your skincare and make-up products (also remover)- are any of them likely to worsen the brows?
Don't rub the brows while taking make-up off.
Enrich your diet with vitamins A, B12, B7, C, E, D, biotin, and omega-3 acids.
If you use any treatment, always be careful and follow directions on the packaging, for example don't leave tint longer than indicated.
Visit a beauty salon and let a professional define the shape of your brows. Don't overpluck the hairs. Tweeze only those that go beyond the created shape.
Choose the right brow care product (such as eyebrow serum) and use it regularly to strengthen the brow hair.
Make use of oils, for example castor or argan oil to stop dryness and prevent damage.
Make sure your brow make-up products are good quality.
Eyebrow serum - the quickest way to stimulate brow growth
Using an eyebrow serum is the best way to start off eyebrow growth. It is made for stimulating the hair growth and extending the anagen growth stage. Thanks to that, the brows grow fuller, thicker and have the desired density and shape. A good serum is a life-saver for all those who want to get longer, thicker brows fast.
Many people want to regrow their brows quickly and visit salons asking how to grow back brows in a week. Though 7 days aren't enough to get thicker, dense brows, the best serums greatly improve the hairs within around two weeks. The most advanced products have growth-accelerating substances and botanical extracts which strengthen, nourish and beautify the brows.
How long does it take to grow longer, thicker eyebrows?
Many people wonder how long the regrowth process will take. If nothing disturbs the growth stage, then it should take from a few weeks to a few months. You should be aware that the brow hairs won't grow all at once - patience is required. It may happen that only some hairs grow back and you've got gaps in the brow arches - it's time to enhance them with a good serum and upgrade the treatment using supplements or home remedies for sparse brows.
Home treatments for thicker brows
What else can you do to make the brows grow? There are some home remedies for getting fuller brows. Check the most popular ones.
CASTOR OIL FOR BROWS
A trusted and most popular ingredient for thicker brows. Extracted from castor beans, this oil has some extraordinary ingredients and its structure is similar to keratin which builds human hair. That's why castor oil is second to none when it comes to nourishing the brows and helping them grow back. Because it's thicker than most oils, it doesn't run down after application.
BRUSHING, OR EYEBROW MASSAGE
Did you know that brushing your brows every day not only ensures the correct direction of growth but also stimulates blood flow and growth? Preferably, get a spoolie brush; many brow sets include them. You can also clean the used mascara brush and use it for this purpose.
EGG YOLK FOR BROWS
Keratin is a powerful ingredient for eyebrows, and it's also found in egg yolk. Some girls use it on their brow hair. Spread some yolk across the hairs and rinse it out after around 20 mins. Do the treatment twice a week.
Eyebrow growth - effects
If you want to speed up brow growth and enhance the treatment with a special serum, then you probably wonder about the effects. Regular use of eyebrow growth serum:
☛ greatly speeds up eyebrow growth
☛ stimulates growth of new 'baby' hairs
☛ deeply nourishes and strengthens the brows
☛ leaves them shiny and hydrated
☛ increases resistance to damage
☛ gives the brows beautiful, intense color
To make sure your eyebrows grow and are strong and gorgeous, then you can combine eyebrow serum with a preferred home treatment. You'll get healthy and thick arches for sure.