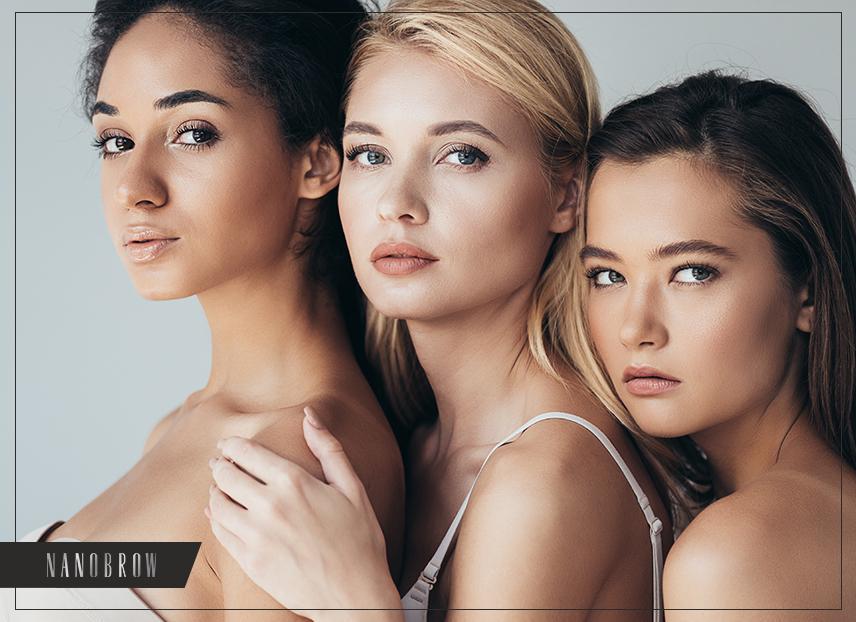 The secret to perfect brow makeup is not only good quality cosmetics but also a well-suited colour scheme that matches your complexion and skin type. How to identify your undertone and choose the right brow products? Are you warm, cool or neutral? Let's find out!
Why is it helpful to know your undertone?
Have you ever bought a brow pomade that looks nice in the jar but has a weird orangish colour that doesn't suit you at all? It might've been because the product didn't match your skin undertone. It's very likely your skin is cool-toned and the product has warm hues which is why the makeup didn't look harmonious.
By knowing your skin type, you can find complementary colours in makeup to amplify your look. This does not apply only to makeup but also to the choice of clothing as well as your image in general. It is crucial to figure out your skin undertones in order to choose makeup products correctly. How to find your skin undertones as well as how to play with makeup to your advantage? What are your skin undertones?
Types of skin tones vs brow makeup
In order for your makeup to look natural and the shades of the brow cosmetics to form a coherent whole, you should choose them accordingly to your complexion. There are 3 types: warm, cool and neutral, also sometimes called mixed. How to identify the warm and cool undertones? It can be a bit tricky and not clear whether cool or warm undertones dominate your skin. Fortunately, there are a few methods that help understand undertones better!
Warm or cool? How to identify your undertones?
There are a few types of complexion undertones - each of them has characteristic features that are helpful when choosing makeup products. How to determine which skin type you are? There are many ways but here are the ones that are proven to work best. Figure out whether you have cool, neutral or warm undertones!
1. Warm or cool undertones: gold or silver?
The simplest method of learning what undertones you are is studying how your skin reacts to cool or warm tones. Using gold or silver jewellery and comparing how it looks against your skin is a great way to determine your undertone. Keep in mind that you shouldn't wear your makeup while doing this. It's best to do the test in bright, natural light, for example, next to a window. We advise you to take some pics for comparison. Look closely at your complexion and eye colour - do they harmonize with silver (cool) or gold (warm) jewellery? Which colour does your complexion look best in? If silver accentuates your flaws and imperfections - skin looks tired, eyebags are more visible - then cool tones are probably not for you.
2. Warm or cool undertones: skin tone analysis
Careful observation of your skin can tell you what undertones you have - warm or cool skin type. A cool-toned complexion is porcelain, with pink, red, or purple hues. When it comes to warm undertones, think of golden, yellow, light brown or peachy shades. Skin that contains orange colours is warm while skin with blueish pigments - cool-toned.
3. Warm or cool undertones: the colour of your veins
Are they green or blue? Green veins appearing on your skin mean you're warm. If you can see blue veins on your wrists - you have cool undertones. It's essential to look at them while standing next to a window. If you see a mix of both or are uncertain, you're probably neutral.
4. Skin undertone test vs makeup
A great way to determine your skin type is to do your makeup two ways. Use a warm-toned blush ;on one cheek (peachy, coral, orange) and a cool-toned pink on the other. Sit by the window in bright daylight and see which shade melts into the skin and looks more favourably, brightens and adds a healthy glowy colour. Of course, if you look better in a warm-toned blush, you're warm and if a cool-toned pink enhances your beauty, you're likely cool.
A similar test can be done with lipsticks: use a product in the colour of fuchsia, light pearl pink or red, dominated by blue tones. Tie your hair, take a picture, then remove your makeup and repeat the process with peachy, warm nude or brown lipstick. Take another photo in the same lighting and compare it with the other.
5. Compare yourself to a famous person
Get inspired by celebrities! Their outfits and makeup looks are often analysed by makeup artists in magazines. Find a movie star or a singer who has a complexion similar to yours and read what professionals have to say about it. Is the person you think about described as a cool- or warm-toned skin type? For example, Sophie Marceau is a warm-toned autumn, Laetitia Casta is a warm spring, Clemence Poesy is a cool summer and Audrey Tautou - a cool-toned winter.
Types of complexions: seasonal skin tones
Because we mentioned autumn and spring skin types, time for an explanation. Seasonal skin types also help determine the 'temperature' of your skin and the most common classification is the four season colour analysis. The basic division into the aforementioned skin types looks like this:
Spring - light, warm
Summer - light, cool
Autumn - deep, warm
Winter - deep, cool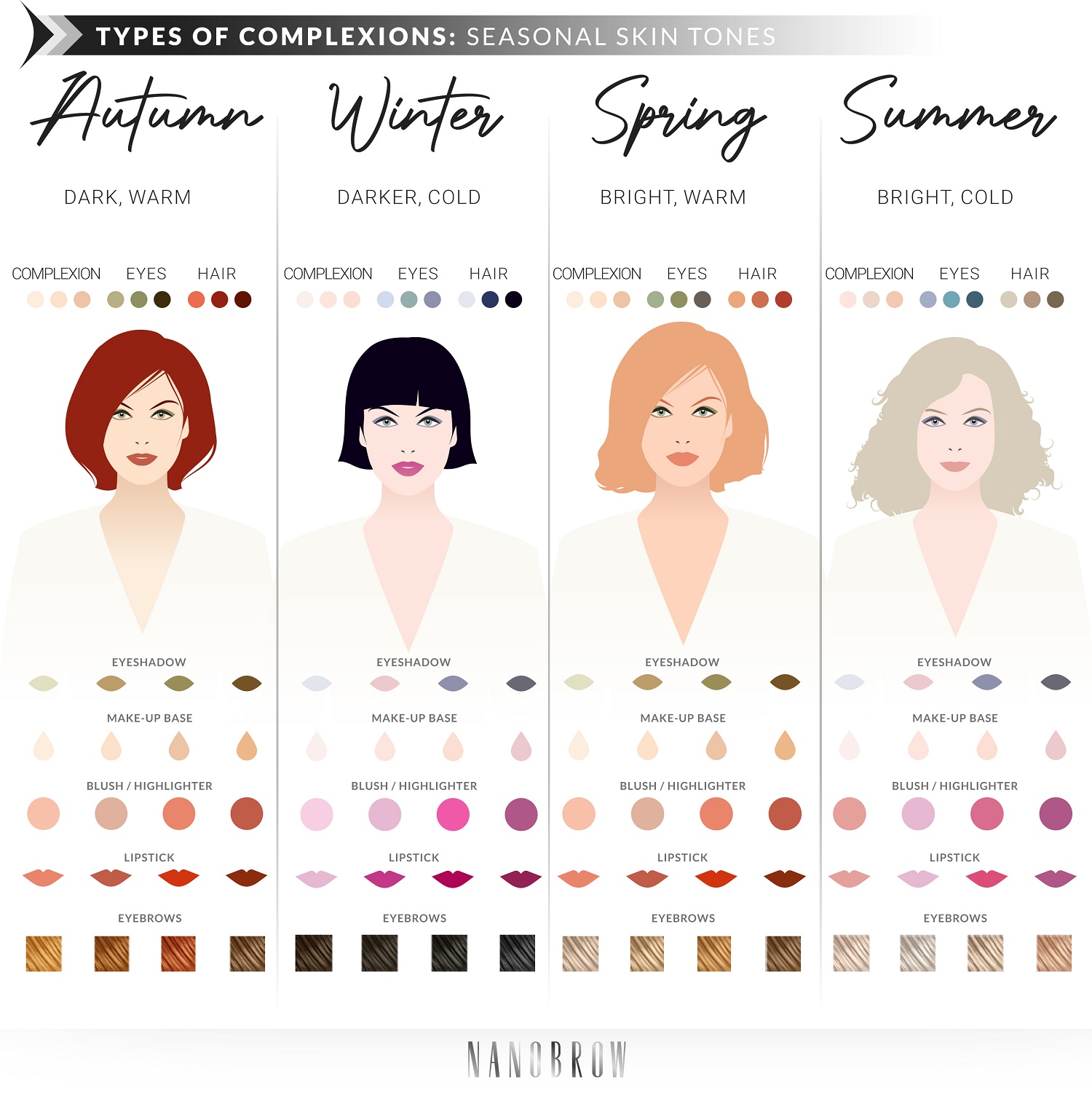 Remember!
The seasonal skin type classification is helpful but very generic. There are many subtypes which fall into ;12 colour types in different tones. What's more, there are people who have a mixed (neutral) skin type so both warm and cool tones suit them. This shows us that we are all very different from each other: skin, as well as hair and eyebrow colours, are individual matters - it's complicated to define a beauty type clearly and put it in some kind of rigid rules. Diversity is beautiful!
Cool skin type
Summer - cool, milky complexion with pink and beige tones. Clear blue, green, hazel or light brown eyes. Hair: light blonde, ashy, platin or light brown. Skin tans easily and turns a darker shade after a few days.
Winter - high contrast between the skin and hair, called sometimes 'Snow White type'. Very light skin with cool, olive undertones. Blue, mid-brown or black-brown eyes. Tans very easily.
Warm skin type
Spring - warm-toned skin, often with a lot of freckles. Blue, green or light brown eyes. Light blonde or strawberry blonde hair with caramel or red undertones. Skin tans easily and has a tendency for blushing.
Autumn - light warm skin dominated by peachy and gold tones. Red or auburn hair with deep red or golden undertones. Doesn't really tan, freckles might appear.
Fun fact!
A skin tone might change throughout your life! Depending on whether you tan or change your hair colour, your skin type might be a little warmer or cooler. It can be noticed when you use a new lipstick shade after summer and it suddenly looks better than usual.
How to choose the colour of your brow products correctly?
Similar to every other coloured product, brow makeup products have a specified colour temperature so in order to choose the right shade of brow pomade, pencil or powder, you should figure out its tones and then go for a colour matching your hair, brows, and complexion. It should be similar to your eyebrow and hair colour but not identical. If your hair consists of a few shades, focus on the one closest to your face. When choosing a brow pomade, choose the option that is one shade lighter than the colour of your brows.
In makeup, it is assumed that cool or neutral tones dominate unless your undertones are far on the warm side and your hair is auburn, chestnut or fiery red. Keep in mind that naturalness is crucial in makeup - exaggerated eyebrows and too-dark shades look grotesque and make you look older and your facial features appear sharper.
A tip!
If you look good in autumn/winter shades, choose a darker product colour.
If subtle colours suit you more, choose a lighter shade.
A brow pomade is a fantastic brow product, regardless of the type and thickness of your eyebrows. Its consistency lets you accentuate the eyebrow lines precisely and in a stylish way. Pomades are able to camouflage possible irregularities and sparse areas and fill in entire eyebrows with colour. Moreover, it allows for creating everyday wear makeup as well as evening looks. It is unmatched if you wish to freshen up your permanent brow makeup.
A brow pencil is another brilliant product to enhance the lower edges and create a correct geometrical shape. The principle of choosing the right colours is the same: the product shade should suit your skin tone without causing dissonance. A good brow pencil will be useful not only for contouring and filling the entire eyebrow arch with colour but also for drawing extra hair-like lines and accentuating brow tails. It is important that the lead is properly thin, of the perfect hardness and has excellent pigmentation - this guarantees phenomenal brow makeup.
Brow makeup for warm and cool skin types
Brow makeup for a warm skin type
Springs and autumns listen up! What brow makeup suits warm skin types? Focus on incorporating many warm and neutral shades. Springs should choose light colours with warm hues: brows, beige. Autumns, on the other hand, might go for browns and beiges dominated by red, orangish and golden accents.
Brow makeup for a cool skin type
Winter and summer types are characterized by cool skin undertones. If you fall into this category, your makeup should be filled with cool (light or deep) browns and grey shades that match your hair colour. Winters will look best in pronounced clear shades while summers - in grey and taupe (a neutral mix of beige and grey). It's best for summer types to avoid black or earthy tones.
Brow makeup - neutral colours. Perfect for every skin tone
It's worth mentioning that apart from colours dedicated to every skin type, there are ones where neither warm nor cool temperature dominates. It is a great solution for those who find it difficult to determine their skin type.
When it comes to neutral shades in beauty products, their colour temperature is toned down. There are no warm tones such as reds, and oranges or cool pigments such as blue or purple. Due to their harmony with other colours, these shades are suitable for a wide variety of skin types, including mixed skin types.
Well-thought-out brow makeup products usually offer neutral shades: it is a safe option as makeup looks harmonious and coherent, regardless of which shades you use in your makeup. Eyebrows filled with neutral shades go well with both warm and cool-toned eyeshadows, foundation, or lipstick.
Nanobrow products - colour schemes for warm, cool and neutral skin types
If you wish to choose a perfect brow makeup product shade, go for Nanobrow's wide cosmetics selection. It includes wonderful brow products dedicated to every skin tone so you won't have any problem matching one to your warm, cool or neutral tones. The Nanobrow products enjoy enduring popularity and their quality and refined colour schemes allow every woman to find her ideal brow mascara, pencil or pomade colour. See it for yourself and wear flawless makeup every day. Nanobrow are real experts when it comes to beautiful brows!