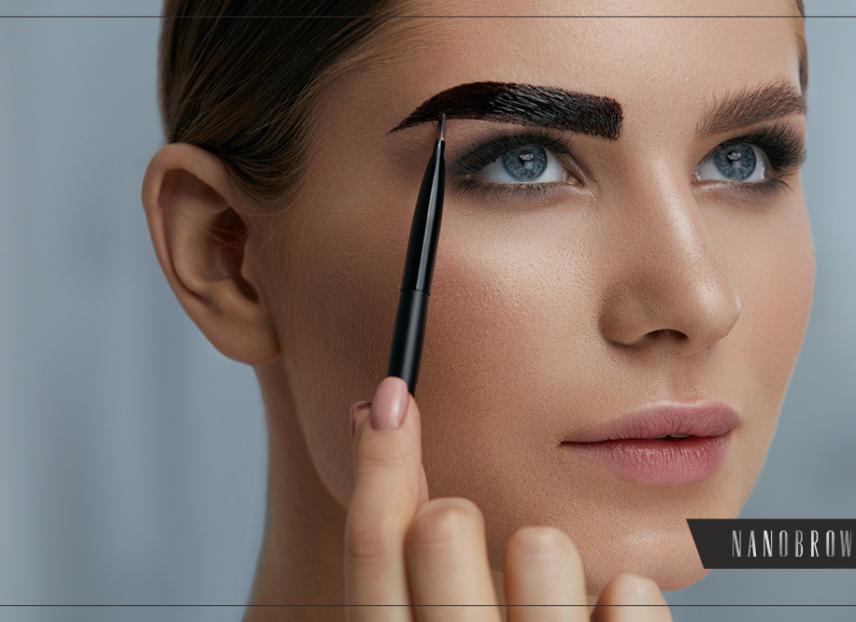 Are your brows light-colored and barely noticeable? Go for brow tinting! It's a brilliant way to enhance the brows and add color. The process takes just around ten minutes while the effect can last for up to four weeks! Henna dyes can darken the hairs by a few tones, which adds definition to the face. How to tint brows at home? You will do it easily following our step-by-step guide!
What's henna dye?
Henna is a plant-based dye that's been used for skin coloring for ages. It is derived from Lawsonia inermis, aka henna tree. It's most popular in India where it's used during the wedding celebrations, mehendi. Henna is used for drawing some patterns on a bride's hand to attract fortune and happiness. These days the dye is used for semi-permanent tinting of brows, lashes and skin.
Types of henna
Did you know there are different types of henna and each one has its unique properties and life span? It's good to know them to choose the right one.
Unfortunately this white powder isn't extracted from the leaves of the henna tree. Instead, it's high in PPD (p-Phenylenediamine) - a synthetic pigment which may cause allergic reactions. It's activated by an oxidant that is also irritative: hydrogen peroxide. Powder henna may cause skin dryness and irritations. It doesn't stay put for long: it comes off after 3 to 7 days.
It is a powder extract from Lawsonia leaves. It's been a known and appreciated natural dye, therefore, its origin definitely speaks in its favor. This type of henna not only colors but also conditions the hair because it's rich ingredients that bring many benefits; these include flavonoids, tannin and polysaccharides. It strengthens the hair bulbs and adds beautiful shine. The indigo dye colors the hair dark, also black. Such henna lasts for longer: for 14 days on the skin, up to 6 weeks on the hair. Because it tints the skin, it manages to camouflage gaps in the brow. Organic henna is mixed with water and doesn't require any extra oxidants.
It has a more delicate effect: it tints the hairs, not the skin. Choose it if you want to solely enhance the brow color without camouflaging the sparse areas or building a thicker look. It's easy to use and subtle, but lasting for up to 3 weeks only. There are special henna gels for brows - similarly to hair dyes, they contain chemical pigments and require the use of an oxidizing agent. However, they may also be rich in oils, vitamins and other ingredients which condition the hair during the coloring process.
White henna, organic henna, gel henna - what to pick?
Powder and gel henna dyes have some pros. The choice depends on your expectations, but also the ingredients in a given product, the time of procedure, and the final result - how the brows look and how long the color lasts. Both powder and gel henna dyes provide many possibilities as fast as colors go: there's black, brown, gold, gray and red. Naturally, you can mix different colors. Ombre effect is extremely popular in brow make-up. You can achieve the amazing look by applying powder henna: it will let you create the most beautiful ombre on your brows.
Brow henna for blondes
What's the best henna dye for blondes? It's a popular question at beauty salons and on online forums. First, you should know that blondes need dyes that are one or two tones darker than their natural hair. Luckily, there are proper hues and the lightest dyes will let you get a subtle effect. Such a tint is perfect for those with a warm beauty type. There's also dark blonde henna dye which colors both the hair and the skin. If you've got highlights or bleached hair but your natural hair is brown, then you can go for bolder brows and match the dye to the shade of the hair roots. Getting the color that imitates your natural hair is the best idea. Charcoal gray henna is also good for blondes and it's most popular color which goes well with other colors: it is perfect for making any henna dye cooler.
Brow tinting at home step by step
Brow tinting takes more time than lash tinting. Before applying a dye, you need to shape the brows. It's also important to apply the mixture precisely. Still, tinting the brows at home isn't difficult. You just need to follow some rules.
#1 Mark the desired shape of the brows. You can use a white eye pencil.
#2 Remember to clear the brows of make-up; they need to be clean and dry. Keep the skin clean and prevent stains - you can apply some rich face cream or petroleum jelly on the skin around the brows.
#3 Mix your henna dye with some water until smooth, thick paste. Remember to read the directions on the packaging.
#4 Use a thin angled brush to apply the dye. Do it slowly and carefully, making sure you don't go beyond the marked lines. Applying henna dye is like filling brows with a brow pomade. Start with the brow end - tail - and outline the lower brow line which should be the boldest. Now tint the middle and apply a tiny amount on the start of the brows. Note: apply the dye on the hairs as well as on the skin underneath.
#5 Let the henna dye sit for up to 10 minutes. Remember that the longer it stays on the hairs, the stronger the effects - the bolder the color.
#6 Soak a cotton pad in warm water and remove the dye.
PRO HACK!
When brow tinting is done, you will probably see all the stray hairs that are outside of the arches. It's a perfect moment to pluck those. Getting rid of unwanted hairs will be much easier!
Can you use henna dyes during pregnancy?
Pregnancy or nursing isn't a contraindication, however, the hormonal changes may affect the result of brow tinting and their life span. Also, moms-to-be should remember if they've ever suffered from skin allergies. If not, then they can go for henna. Ideally, they should choose organic, plant-derived henna dyes. The ones with chemicals are too harsh for the skin.