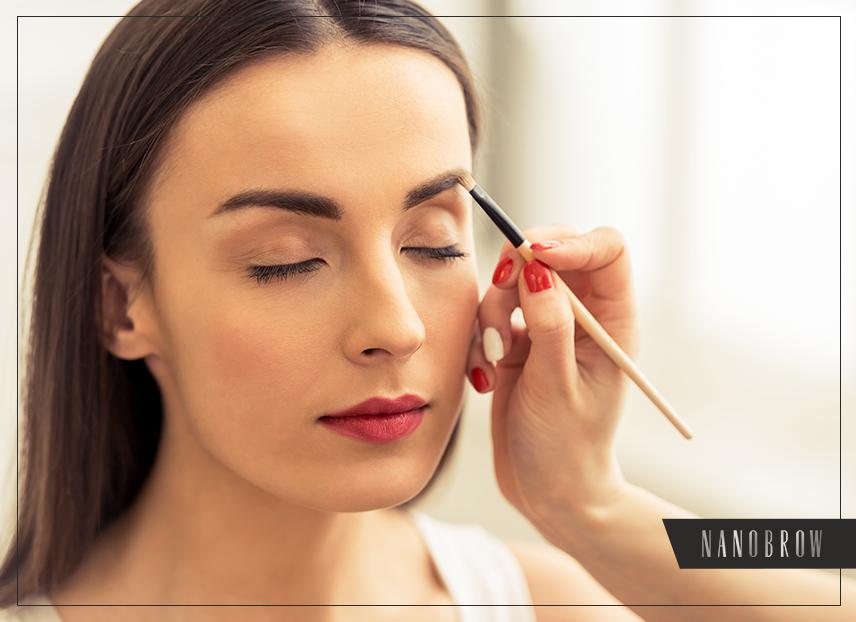 Eyebrow definition is an essential element of make-up. Do you sometimes struggle to do your brows? See the best tricks that will get you the most fabulous arches easily. Keep reading for the life-saving brow make-up hacks - used by make-up artists too.
Daily eyebrow care - secret to lovely brow make-up
Before you think about doing your brows and applying the most gorgeous make-up, make sure you take good care of the brow hair. The healthier the hairs, the nicer they look. If they're strong, thick and well taken care of, then you can count on flawless make-up which is impossible to achieve on sparse, patchy brows.
What to use to get healthier, better brow hair? Without doubt, a brow serum is the most effective - use it regularly every day before sleep. Your brows will get prettier shortly!
The best make-up tricks for fleek brows
Flawless brow make-up isn't a thing that comes out of nowhere - you need to know how to apply it to achieve the best effect and use little effort.
#1 Powder your brows before applying make-up
This trick will come in useful for all those whose brows lack volume or have oily skin. Apply transparent bamboo, mineral or rice powder on the brow hair - it will provide a matte finish and absorb excess oil. That means longer life of make-up - cosmetics won't smudge.
#2 Get an angled brush
Do you know that make-up artists wouldn't do without a thin, angled brush while doing their job? With such a simple tool you can create either bold or thin lines. The thinnest part of the brush will let you fill in brows precisely for natural-looking, flawless, beautiful arches. Go for quality accessories which will allow you to imitate natural hairs. You can use angled brush for applying brow pomades, powders and waxes but also for blending other make-up products.
#3 Brush through brows after applying make-up
When you fill in brows, the filler probably doesn't get on the brows evenly. How to distribute it smoothly throughout the brow? All you need is a handy spoolie that will let you soften the sharp edges and ensure even coverage.
#4 Super fast brow make-up trick
Speaking of brushes, here's a hack that will get you lovely brows in a flash! It's the world's quickest way to do the brows - you need a spoolie and a brow pencil in beige or brown. Apply a tiny amount of the product on the spoolie and brush through the brows. This way you define and shape them quickly.
#5 Avoid sharp edges
Remember to keep the upper brow line soft and avoid sharp contours. If you do strong and bold lines then you may end up looking cartoonish, which isn't the wanted style for sure.
#6 Add extra definition to your brows
Make-up artists have been using this trick for years: use a nude brow/eye pencil or concealer and smooth it under the lower brow line - the upper line is soft and natural while the lower line is even and precise. This gives natural-looking arches, adds lift to the brows and makes the entire face look fresh and rested. The specially-designed highlighter from the Nanobrow Eyebrow Powder Kit is cut out for this purpose.
#7 Tame your brows using a brow gel
Even the best make-up products will be useless if your brows are messy and unruly. To create the perfect shape and make it last, you need a clear or tinted brow gel. It's a brilliant idea for taming unruly hairs. A quality gel will shape and keep the thickest and most bushy brows polished.
#8 Choose the right colors
The choice of quality products isn't the only secret that brow artists have in store - the colors matter too. Did you know you need at least two shades if you want precise make-up? For example, you can use a cool shade of a brow powder, marker or pencil to fill in sparse brows but then you should reach out for a lighter color to avoid the heavy, overly bold arches. With a few colors, you can create natural-looking ombre effects: start with a light powder and gradually add some darker hues.
#9 Make sure there's balance
If you want the flawless brow look, then make sure the brows go with other elements of make-up. If you go for a bold smokey eye, then keep the arches bold as well. A more delicate effect is better for day make-up. Harmony is the key to perfect make-up.
#10 Avoid brow stencils
Brow stencil seems to be the easiest way to get the desired brow shape, however, you need to remember that they are not suited to your unique facial features. We all differ in face shapes, eye shapes, inner and outer corners of the eyes, the distance between the eye and nose, etc. That's why we suggest brow mapping instead of stencils - you will create the most beautiful brow shape which goes with your face shape.