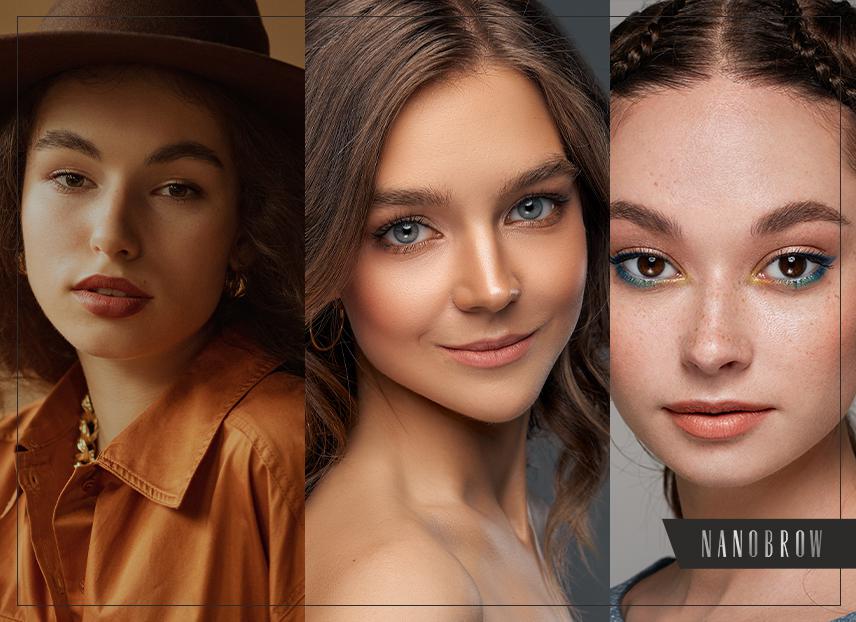 Brow make-up needs good preparation. How to shape the brows to make them look their best? Do you know the latest brow trends? Check out the hottest and most shocking ones! Which style will you pick?
"Undone" brows
People across the world are fascinated by things that are natural like cosmetics or herbal hair dyes without chemicals. This trend is also cropping up when we read about ways of doing the brows. Undone brows have been extremely popular for some time now and the number of people loving the style is still growing. How to get the look? Well... leave your brows the way they are! Don't pluck them, don't trim them, don't tint or style them. To make them grow and get bushy, you can try an eyebrow serum which will let you grow stronger and thicker hairs in a few weeks.
Skinny brows from the 1990s
In the 1990s women would wear brows that looked nothing like the modern-day undone brows. Very thin, overplucked, so-called skinny brows were wanted! You had to come really close to the person to notice them. Over the years women loved to pluck the hairs creating barely-there arches. Sadly such a look didn't go with many. The worst thing is that the brows don't grow back after years of overplucking. Now it looks like the skinny brows are coming back but in an 'updated' version - the thin arches are suited to the face shape and done with a brow soap or gel.
Eyebrow slit
Unusual and shocking brow trend for the brave ones: a part of the brow is shaved leaving a slit. That's quite a daring style for sure and it's not new- it was popular in the 1980s and 1990s, worn by Big Daddy Kane, Kris Kross and Vanilla Ice, among others. Today it's no longer reserved for hip-hop stars or fans. Brow slit is trending on Instagram and even brow artists swear by the look. Rihanna is one of the celebs that got enchanted by the style. These days we don't need a trimmer or razor to get a brow slit - we can use full coverage make-up.
Straight brows
This trend is quite daring too: you shape the brows so they're flat and straight. To create the look you will need to pluck the hairs from the brow tail. Straight brows can look stunning and you don't need to tweeze the hairs to check if they're good for your face - you can try the look by camouflaging the tail with make-up, concealer to be more precise. If you like the effect then you can take hold of the tweezers and create straight brows. All you need is one tool: precision tweezers with a slanted tip.
Feathery brows
Feathery brows are a big hit and you'll love it if your brows are thick and bushy. You can create the look easily at home. You just need to lightly trim the hairs using a special brow trimmer with a long blade. Brush the brows upwards and trim the hairs that are longer and stand out. By doing so, you have neat and thick arches. If you want to keep your feathered brows for longer - try a lamination kit which holds hairs in place for many weeks.
Geolift brows
Geolift is one of the new styles that's similar to the feathered brows. Here, the start and arch of the brows are fuller and fluffier but the tail is tapered, clearly defined, sharper. The style gets us fullness but also a nice lifting to the brows. This leaves the face looking rested and makes the eyes appear bigger.
Untypical brow shapes
Eyebrow make-up artists and experts come up with more and more extraordinary and shocking ideas. They're not afraid to experiment and get carried away. The brow styles that take over social media and catwalks include fish tail brows looking like real fish tail while wavy brows rock on Instagram.