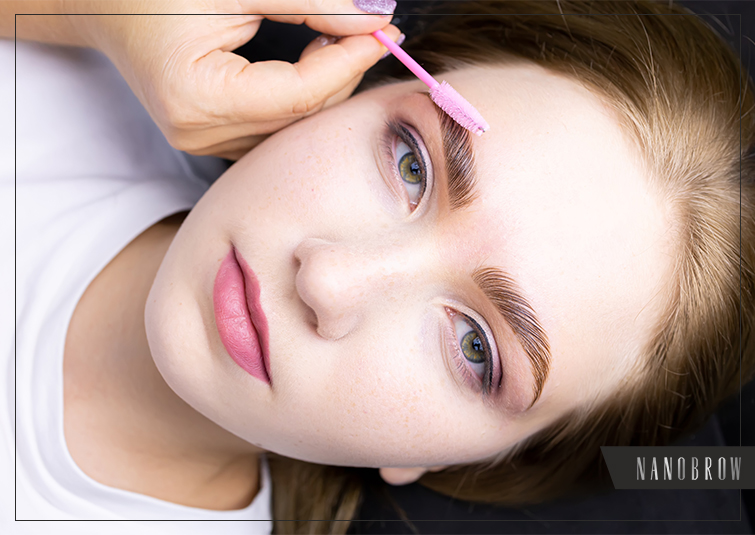 Brow lamination is an extremely popular brow styling treatment. People all over the world have gone crazy about it and we're not surprised: brow lamination allows us to tame the unruly hairs and keep them in place for many weeks. The treatment gives the desired brow shape which looks natural and goes in tune with the hottest trends on Instagram like #nomakeup, #browshaping or #browlift. What does brow lamination involve? How to do it at home? Learn how to get perfect brows!
What's brow lamination?
Brow lamination is one of the most popular choices when it comes to treatments that deliver the desired brow shape. Depending on your preferences, you can get them lifted or just brushed and tamed to stay flawless. The great thing is lamination deeply nourishes the brow hair and will also let you do your brows easily. However, if you don't feel like applying make-up, you don't need to because the brows will look great make-up-free. The treatment turns them around so just brushing through hairs will be enough. Brow lamination keeps the brows lovely-looking for many weeks - without any makeup!
Who is brow lamination dedicated to?
Brow lamination or brow lift is recommended for all those with unruly, sparse or patchy brows. People often go for it after they get eyelash lift done. Brow lamination improves the looks of fine, barely-there brows. It's loved and appreciated by fans of natural-looking make-up and those who don't want semi-permanent brow make-up or tinting. Lamination is a good choice if your eyebrows stick to different directions and you struggle to tame them. With this treatment, they will get more manageable as well as nourished and glossy.
Your brows are stiff and you don't know how to give them the desired shape? Because lamination changes the hair texture, it delivers the new shape of brows and keeps them easy to style. Simply put: if you don't like the shape and look of your brows, then lamination can turn them around and keep them lovely for many weeks.
What's great, brow lamination can double the thickness of the brows, which is why it's popular among those with sparse, fine hairs.
Can you do brow lamination yourself?
Lash and brow professionals think it's best to get the treatment done at the salon, however, brow lamination, similarly to other simple treatments like gel nails or brow tinting, can be done easily at home - all you need is a quality brow lamination kit. With properly marked bottles and detailed directions, you will do it effortlessly. Brow lamination isn't that hard!
Effect of brow lamination
Eyebrow lamination creates the perfectly-shaped brows - the shape that you've dreamt of. The treatment brings extra benefits, namely, improves the brow hair structure, smooths unruly hairs and adds gloss. Your arches will also be thicker-looking and darker. The facial features will be enhanced and the eyes will be defined.
How long does the procedure take and how long does the effect last?
The treatment takes from a few to twenty minutes - it depends on the product you use and the condition of your brows. The effects of lamination last from 4 to 8 weeks or longer, depending on the state of your hairs and the proper after-care.
Speaking of after-care...
After doing brow lamination you need to follow some rules to enjoy fleek brows the longest possible. Within the twenty-four hours after the treatment you should give up on sauna or swimming because you should keep your brows dry: lamination products need time to be absorbed. Ideally you should avoid touching the brows or applying make-up during the first day after the treatment. Later on you can swim, go to sauna, apply and remove make-up. To keep the effect for the longest possible, comb through your brows every day.
How to condition the brows after lamination?
Use vegetable oil with regenerative properties, for example argan, jojoba or castor oil. The effect of the treatment will last for longer and your brows will stay strong and nourished.