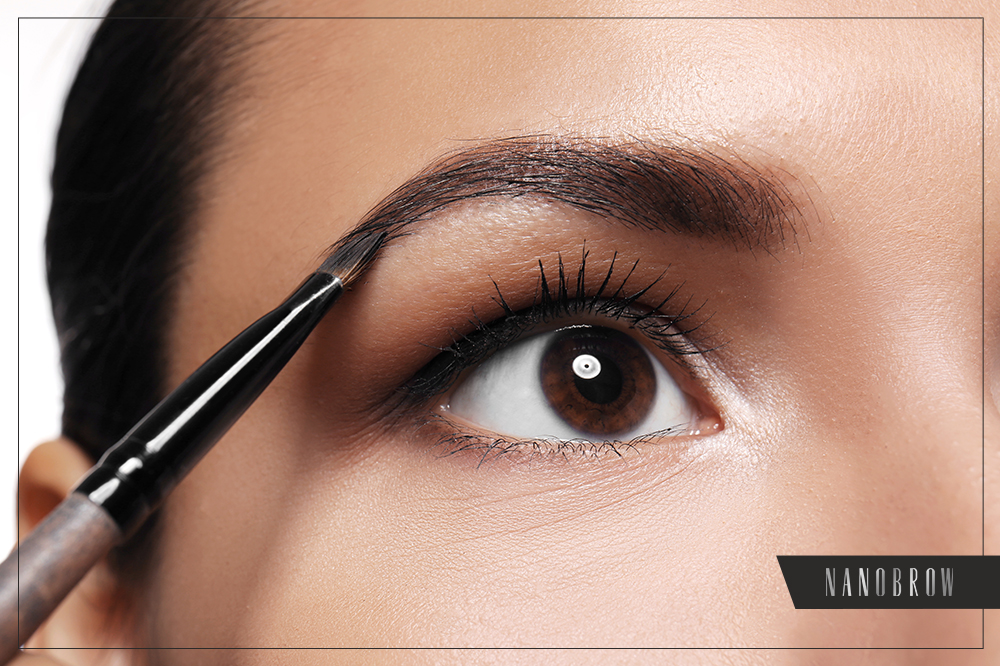 Eyebrow pomade is the hottest makeup trend lately! This unique cosmetic allows you to achieve unique effects, impossible to get with mascara or eyebrow pencil. Do you want to start using brow pomade but you're not sure how to do it correctly? Do you dream of perfectly defined eyebrows? Learn the best brow makeup method - our guide reveals the secret of perfect makeup with eyebrow pomade!
What is an eyebrow pomade?
Eyebrow pomade is a cosmetic with the consistency of wax or a paste - it's dense and comes in a glass or plastic jar. The exceptional density makes the product highly pigmented and provides a strong coverage - ideal for bold brow makeup. It allows you to precisely emphasize your arches, add definition and color, fill in any sparse areas and mimic individual hairs. The pomade ensures your eyebrows remain perfectly contoured.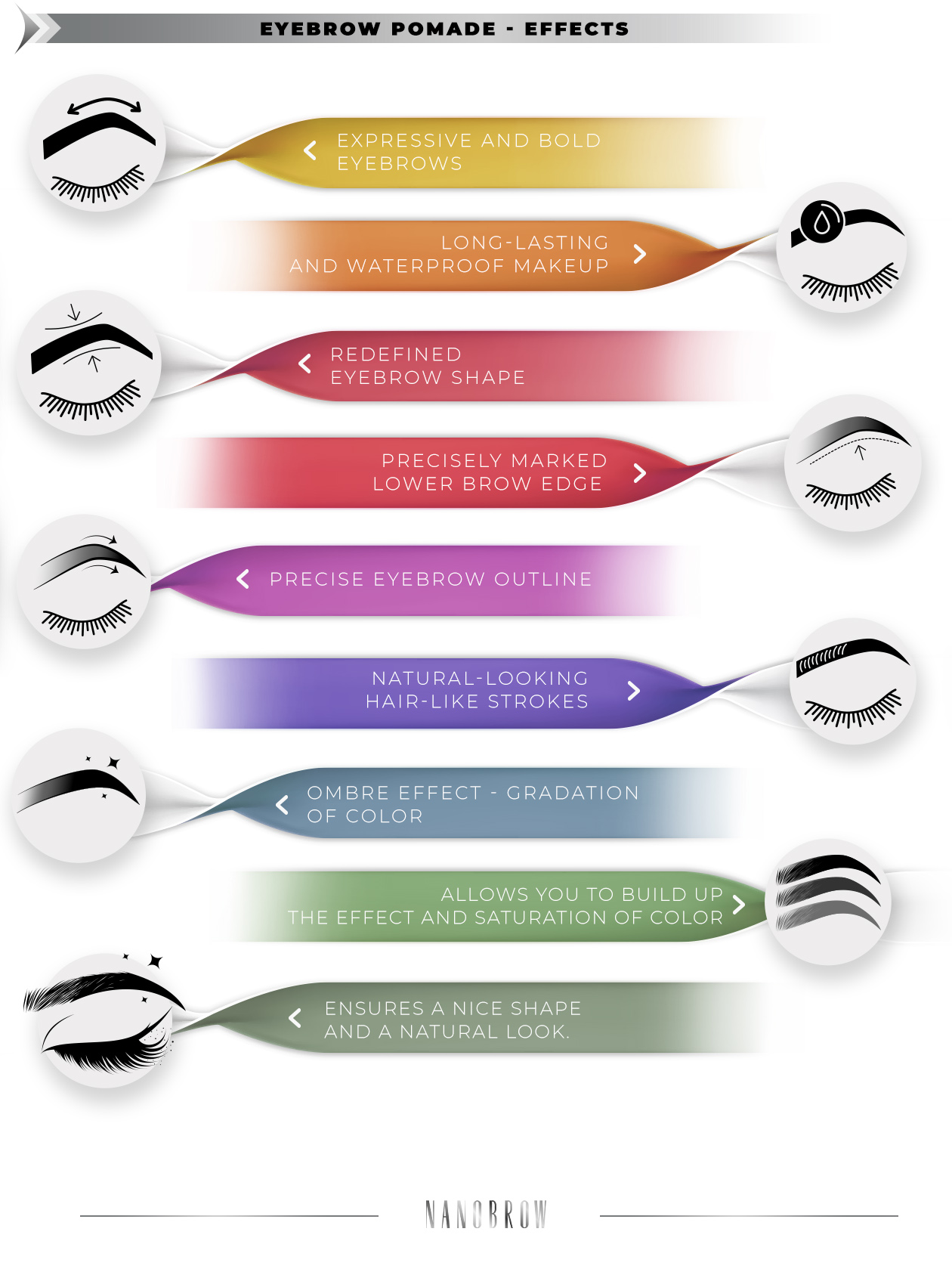 Eyebrow pomade - who is it for?
Pomade is a unique and versatile cosmetic, as it delivers a variety of effects in brow makeup: from bold and strong to the subtle enhancement of the eyebrows. That makes it ideal for any eyebrows - thick, and bold, which only need defining their shape, and for thin and sparse to "create" them from scratch, adding shape and definition. If you learn how to use it, you can achieve various effects in your brow makeup - fill in the sparse areas, mimic individual hairs, delicately highlight the eyebrows or make them look bold. The possibilities are endless and it all depends on the look you're going for. Just remember that the shape, thickness and positioning of your eyebrows should match the shape of your face.
What do you need to use a brow pomade?
To apply pomade to your arches precisely and easily, you'll need a good quality brush. It should be thin, flat and slanted. It must also have the right length of bristles so that it is not too flexible and doesn't create too thick lines. A precise brush ensures precise brow makeup and provides comfort and during eyebrow makeup. The pomade is wet and sticky but also very durable, so every brush stroke leaves a trace. That's why when applying the pomade, try to gradually increase the intensity and start with gentle strokes.
How to use brow pomade step by step
1. For long-lasting and three-dimensional makeup, it is good to apply transparent powder to your brows first and gently brush out the excess. A spoolie will come in handy for this job.\
2. It's time to mark the outline of your eyebrows. Apply a small amount of pomade on the brush. Remove the excess by rubbing the brush on the back of your hand and draw a thin line at the lower edge of the eyebrows. Remember about the right proportions and determine the ideal shape of your arches. It should match the shape of your face.
TIP
If something doesn't come out as you wanted, do touch-ups right away, before the eyebrow pomade dries out.
3. Once you've marked the eyebrow outline, make sure there aren't any unwanted hairs beyond the outline. Groom your eyebrows easily with a good pair of tweezers that can easily grab every hair.
4. Now that there's just enough pomade left on your brush to mark the upper eyebrow line. Draw it, keeping in mind that the tail of the eyebrow needs to be more accentuated. You can add an extra touch of pomade to emphasize it. This gradation of color makes your eyebrows look more natural, so make sure the tail is the darkest and the front is sparsely filled in to create a feathered look. This ensures the fashionable ombre effect.
5. Get a dab of pomade from the jar and gently fill in the entire brow with color, keeping in mind the gradation of color and accentuate the tail more heavily.
6. Using a clean spoolie, brush out the excess pomade, concentrating on the top line (it shouldn't be too sharp) and the middle part. You can leave the tail untouched.
7. If you feel like it, you can fix your eyebrows with a clear gel. This will keep the hairs in place all day so you can control their shape throughout the day. The eyebrow gel also adds a three-dimensional effect and gently shines the hairs, improving the aesthetics of the finished look.
TIP
If you accidently went beyond the eyebrow line, just clean it up with a bit of concealer. A thin brush comes in handy for this job.
Which eyebrow pomade to choose?
For best results, high-class and durable makeup, choose cosmetics of the best quality with an excellent pigmentation and exquisite shades. Just like Nanobrow Eyebrow Pomade - its well-thought-out shades with excellent satin texture and durable waterproof formula can make you the master of eyebrow makeup in no time. Don't compromise on your beauty - choose quality and eyebrow cosmetics with best ingredients. Choose Nanobrow!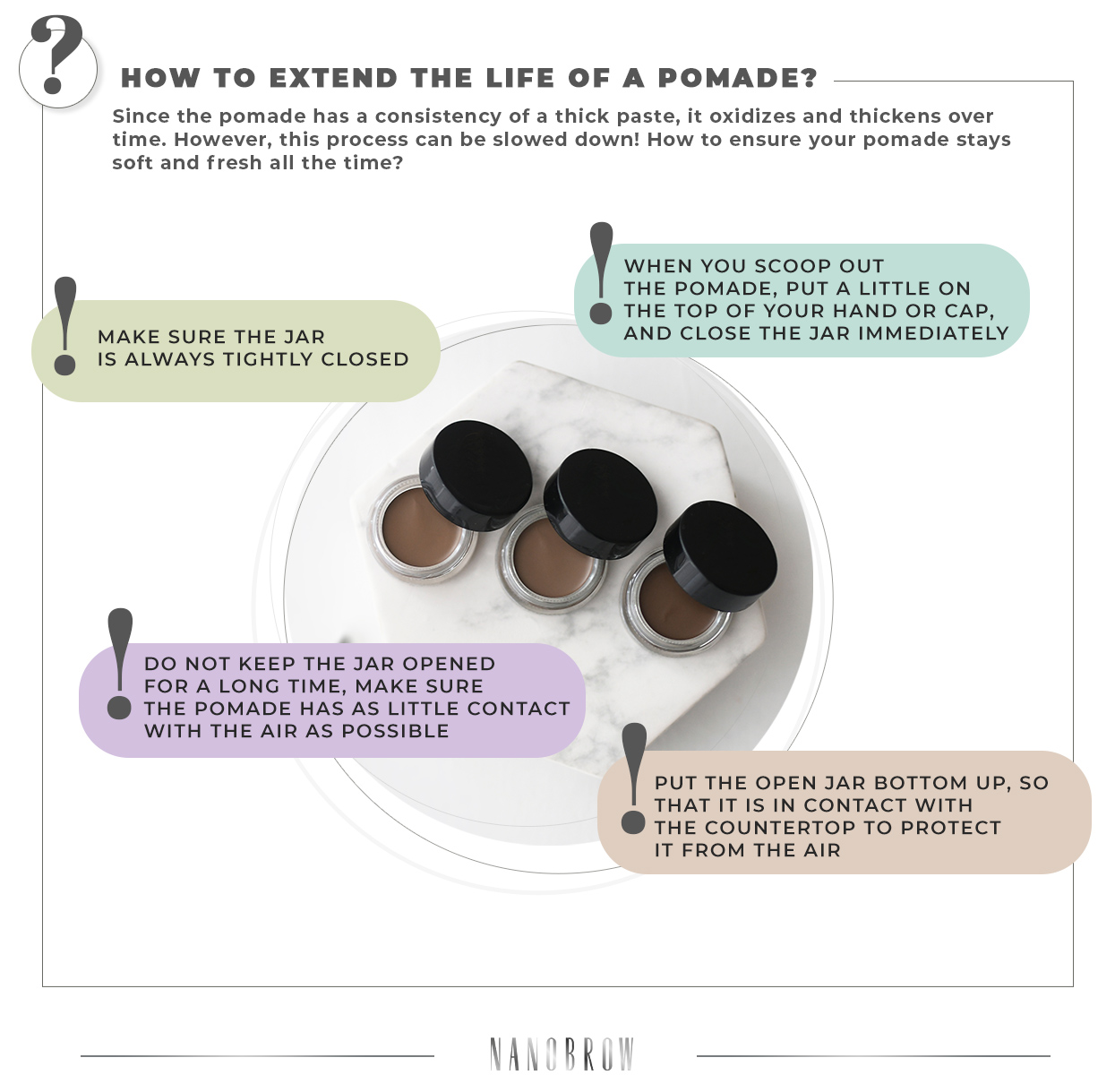 How to save a dried pomade?
Each eyebrow pomade has a heavily creamy, compact and thick formula. Its consistency causes it to dry over time. Fortunately, it can be saved! If you want to get the liquid and creamy consistency of your pomade again, simply add a drop of a duraline to it - this unique cosmetic will certainly come in handy for makeup fans, as it can be used for more than just diluting the eyebrow pomade! When combined with the makeup cosmetic, it changes their formula to liquid and waterproof, or dilutes them when they're too thick. This makes it easier to apply any makeup product - from foundation to lipsticks and eyeshadows, which, when diluted, can be applied wet.
Enjoy your eyebrow makeup!