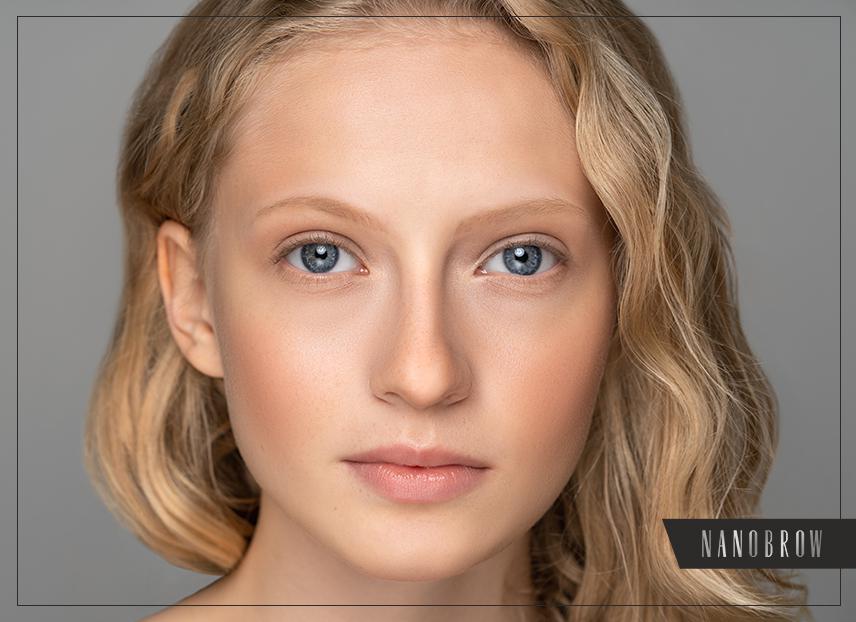 Perfectly proportioned, bold and strongly defined eyebrows are still a top makeup trend. No wonder: thick eyebrows make your face look younger. That's why the 80s and 90s fashion for thin eyebrows has become a thing of the past. However, many women, after months of plucking their eyebrows in the name of old trends, now struggle with growing thick and lush eyebrows. Are your natural eyebrows sparse and almost invisible? No more! Use makeup tricks and learn the best makeup techniques for thin brows.
How to thicken your eyebrows?
First of all, you should know that even the thinnest and most sparse eyebrows can be restored! There are special thickening eyebrow serums promoting eyebrow growth, such as the iconic Nanobrow Serum, valued by women all over the world. Regular use of the serum makes the brow hairs start to grow back and your arches become thicker. If you're dreaming of lush and thick eyebrows - there's no better way than a good eyebrow serum to improve their density and appearance in just a few weeks!
How to volumize your eyebrows?
The best method of thickening eyebrows that works instantly is good brow makeup. If you want to add definition to your eyebrows and thicken them using makeup, various eyebrow products come to your aid. Nowadays, the cosmetics market has grown tremendously in the field of brow makeup and there is a wide variety of available products: eyebrow pencils, microblading pens and markers, brow powders, eyebrow wax, brow mascaras, gels, pomades and even special soap that shapes the brows the way you like.
A step-by-step thin eyebrow makeup tutorial
1 Prepare your eyebrows: brush them with a spoolie.
2. Using eyebrow pomade and a slanted brush, outline your eyebrows. Remember that the lower edge should be accentuated stronger. For this job, you can also use a soft and well-pigmented eyebrow pencil. Consider eyebrow mapping to define the correct shape of your eyebrows. With thin eyebrows, the contour should go beyond the natural hairline to add volume.
3. Once the contour is outlined, create hair-like strokes to fill in sparse areas using an eyebrow pen or a pomade.
4. Now fill your eyebrows with color. Brow pomade or brow powders work best here. Start from the inner edge, near the corner of the eye, and work your way toward the arch.
5. Remember that the inner edge should be lighter than the tail: using a brush or a spoolie, gently brush out the excess cosmetic from the middle part (the upper eyebrow line) and at the beginning of the arch.
6. Accentuate the tail, creating a slightly sharper and more pronounced line. Remember not to make it too sharp: maintain the correct eyebrow mapping.
7. Set the brow hairs: using a transparent or tinted eyebrow gel, gently brush the hairs, giving them the final, desired shape. You can brush them upward for best results.
Done! You have just done your brow-filling makeup.
TIP
If you are filling in your eyebrows using brow powders, use a kit containing wax and two powders. They enable creating natural-looking gradient look, a soft transition of color from lighter to darker. You can mix and blend good quality brow powders to ensure the effect is subtle and the final brow makeup looks natural.
What works as brow-fillers?
There are cosmetics particularly useful for thin and sparse brow makeup. First of all, it is a pomade, which provides 100% coverage, fills the entire arches but also allows you to mimic individual hairs to cover any sparse areas. Eyebrow pencils and special microblading pens create ultra-thin and precise lines and help add depth to your arches.
Remember!
Even the thinnest and sparsest eyebrows must be shaped properly. Eyebrow mapping is the basis of eyebrow makeup. You can read more about how to properly define the right shape of your eyebrows HERE.