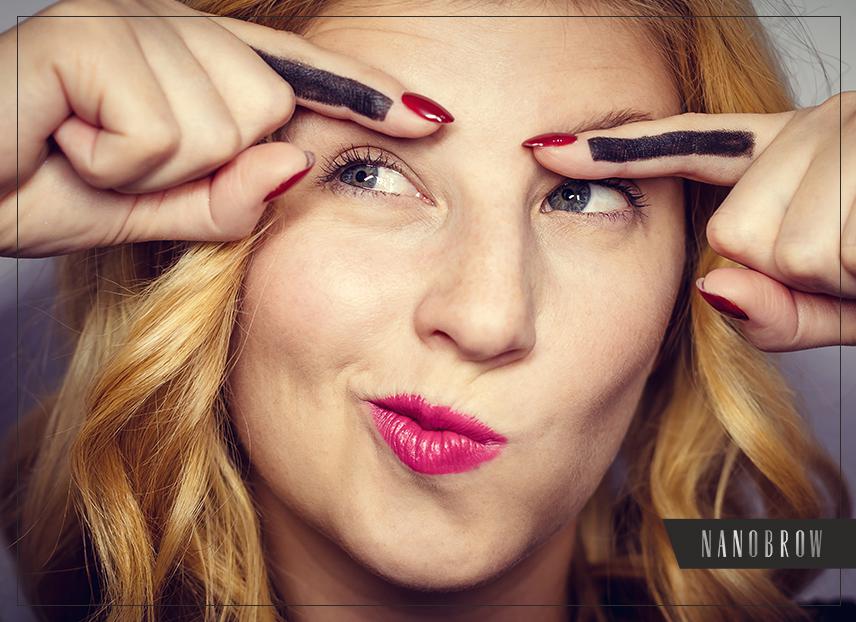 Do you know the most common eyebrow make-up mistakes? We often make them unconsciously so it's good to catch up and know the dos and don'ts. Keep reading if you want fleek brows!
Wrong brow shape
This is the most popular mistake which spoils make-up but also makes the face look just bad. Your brows must go with the shape of your face. Don't copy the look from models and actresses - everyone must determine their own brow shape. Eyebrow mapping is a must and your make-up will never look its best without it. To get the best brow shape, you can have an esthetician or brow artist do that - you'll be sure it's done professionally so applying brow make-up will be much easier.
Wrong tweezing
Sometimes brow make-up looks bad because the brows are tweezed the wrong way. It's a popular brow stylization mistake which affects your make-up routine. Some tweezing fails can't be fixed even when you use the best make-up products and the most precision techniques. If getting the desired brow shape is problematic, then don't do that yourself - visit a pro, and then just tweeze the stray hairs that go beyond the determined shape. Sometimes a tweezer is the wrongdoer so choose it carefully so it's handy, doesn't slip, and grabs the tiniest hair.
Too bold brow make-up
It's a very popular mistake: many women tend to make their brow too bold. They put too much make-up which leaves the brows cartoonish and exaggerated. Less is more is the rule we advise you to follow. Don't use too much color, use products sparingly, and never draw too sharp arches. They are too bold for soft facial features. The same applies to fair hair - don't use too much color while filling the brows.
Too thick brows
Drawing too thick arches is a common brow make-up sin. It's usually done by women who have thin or overplucked brows and dream of thick, bold arches. It's true that thick brows make us look younger, but we can get carried away easily. Too thick brows are likely to leave us looking angry and not friendly... Such brow make-up is especially bad for women with soft facial features. Again, we advise you to match the thickness of the brows to your face shape.
Too thin brows
Too thin arches may also leave the face looking weird and out of proportion. Moderation is always welcome. Neither too thick nor too thin brows look good. Skinny brows make us look older and theatrical. If your brows are very thin because they won't grow, then we recommend enhancing them with a special preparation such as eyebrow serums - they stimulate growth of the most 'stubborn' hairs. The best serum will give you quick effects and also nourish the brows thanks to added nutrients. It will thicken and beautify them gradually. Will you give it a try?
Wrong color of the brows
Using too light or too dark make-up for the skin tone and hair color is another common mistake. Many women don't pay attention to choosing the right colors of brow make-up products and they end up with cool tones for warm skin - and the other way round. Brow experts advise against using dark colors because they look too bold. Too light brows also spoil make-up. Lightening the area above the brows with a light pencil is a bad idea too. You should give this thing some thought and choose the best color of brow make-up for your beauty type.
Wrong choice of eyebrow make-up products
Let's look into the quality of brow make-up products. Did it ever happen that your brow pomade came off way too early, mascara left clumps or the brow powder was poorly pigmented and didn't give the brows the desired color? Brow make-up artists choose only the top-quality products. Instead of getting a lousy product and having it stag in the bathroom cabinet, go for good-quality cosmetics. Remember that long-wear and highly-pigmented pomades or gels will last you much longer because a little goes a long way.
No brow shading effect
Around 80% of women apply just one-color brow make-up which creates unnatural effects. To avoid that, don't start applying the product from the head of the brows (inner corner) - most of the product should be applied on the arch and tip. Use a small amount on the head to ensure the smooth transition of color. Remember that if you apply too much color on the starting point of the brows then the brows will look too bold and unnatural. Once makeup is done, comb the hairs using a spoolie to get rid of the product excess and lighten the head of brows. This is how you can shade the brows even if you have just one color. A brow spoolie will also help you soften the arches and too sharp edges.
Not setting make-up
It's good to use a clear setting gel as a finishing touch. After all the work done, don't risk having make-up rubbed off. A good brow gel helps perfect the brows and keep hairs in place. You'll be sure the brows will stay fleek all day.
We hope your brow make-up will stun everyone around!