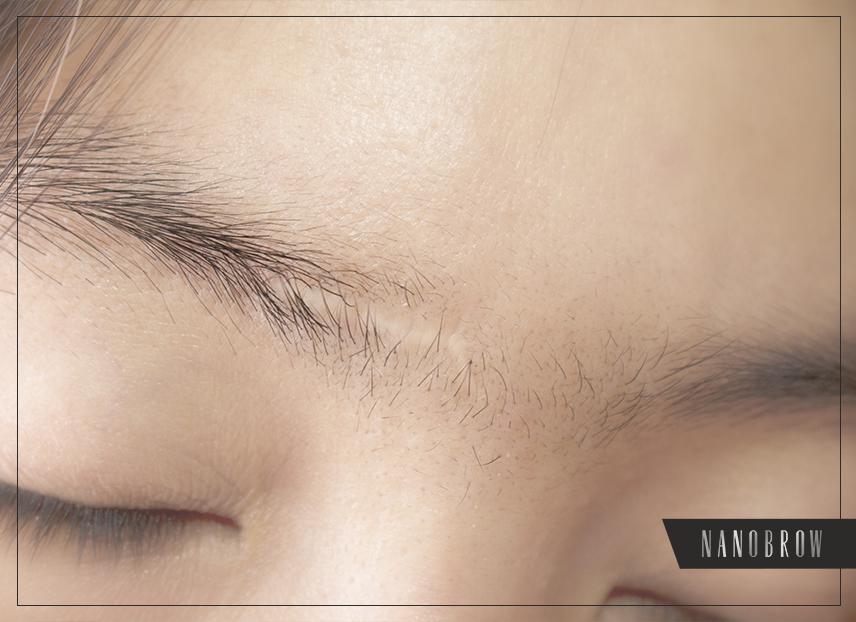 Face scars, especially the ones on the eyebrows, are very eye-catching, as they are often accompanied by hair loss in this area. Is it possible to cover up or get rid of an, eyebrow scar? Sometimes the only way is to remove it by laser or surgery. But there are also natural ways to reduce scars. Learn about special makeup tricks and ways to get rid of scars.
What is an eyebrow scar and how does it form?
Scars are distinct changes in tissues that occur when the skin is damaged. Most often they are formed as a result of trauma, accident, injury, or burn, and sometimes they are a leftover of various types of surgeries or cosmetic procedures. The healthy is replaced by fibrous connective tissue, better known as scar tissue.
You should know that scars can vary in their intensity: they can be shallow and become invisible after some time, or quite deep and extensive - such scars remain on the surface of the skin for years, and sometimes even forever. Body scars can be easily hidden under clothes and generally, we don't think about them, but it's different with facial scars as they're quite embarrassing, which is why many people are looking for ways to get rid of scars, or at least camouflage their scars on their faces, eyebrows, or other visible areas.
Cosmetics for healing scars
If your eyebrow scar is not too deep, you can make it shallower or even remove it completely with special ointments and creams. These are available at the pharmacy but some are prescribed by a doctor. They contain special ingredients that promote skin regeneration and cell renewal to ensure there's no trace left of the scar.
Some of the most popular ingredients used in these products include ethanol extract from onion skin, sodium heparin, pearl powder, stem cells (including those from Centella Asiatica), polysiloxanes, cyclopentasiloxane, gold nanocolloid, and silicon dioxide. If you are looking for good scar healing products make sure they contain several of the ingredients listed above.
Scar makeup coverage
Brow makeup to cover up an eyebrow scar is not complicated at all! Check out our step-by-step guide - you can quickly master the brow makeup techniques to camouflage gaps and eyebrow scars!
CONCEALER - this product helps you camouflage the scar, especially when it is fresh or red. It is essential to even out the skin tone. Remember that green concealer works best for covering red scars, while yellow concealer is recommended for purple-colored scars. Nude shades work great on old, pearly-white scars.
How to camouflage an eyebrow scar with makeup. A step-by-step guide
1. Apply face moisturizer or lotion to your skin to smooth and moisturize the skin and make it prepped for further steps. This ensures it is easier to apply makeup evenly and achieve a natural-looking effect.
2. Apply your favorite concealer. A flat and slightly slanted brush will come in handy for this task. It should have soft bristles to facilitate precise application. Then blend the concealer so it naturally melts with your skin.
3. Apply a thin layer of foundation: you can use a foundation brush or sponge. The foundation shade should match your natural skin tone. Otherwise, the eyebrow area will stand out from the rest of your face.
4. Powder your brow gently with a transparent powder to extend the durability of the camouflage effect.
5. It's time for brow makeup! If your scar is large and very noticeable, it's best to go for a pomade. This makeup product has strong coverage and paste-like consistency which perfectly camouflages any gaps or sparse areas. The pomade is malleable, long-wear, and waterproof, and allows you to mimic real brow hairs on the surface of the scar. This product lets you completely redefine the shape of your eyebrows. Read more about how to use brow pomade on our blog.
6. Brush off the excess product gently, using a spoolie. The tail needs a stronger definition while the inner edge should be blended well to create a natural-looking effect.
DIY - home remedies for scars
Can home remedies really get rid of old scars? Certainly, creams and DIY cosmetics, containing ingredients promoting skin healing work on small and shallow scars. One of the most popular cosmetics for skin regeneration is a blend of natural oils and honey. You can make it yourself easily: simply mix 3-4 drops of lavender oil, 50 ml of coconut oil, and 50 ml of argan oil, with 10 ml (tablespoon) of honey.
Coconut oil has nourishing, antiseptic, and antibacterial properties. Argan oil is known for its revitalizing action. It promotes skin cell renewal and provides the skin with valuable omega-3 and omega-6 acids, which have moisturizing, anti-inflammatory, and rejuvenating properties. Honey shows similar features, it strongly regenerates the skin and prevents inflammation. Lavender oil, on the other hand, contains vitamin C, precious organic acids, mineral salts, and tannins. It promotes the repair processes of the skin and combats many skin problems. To ensure the oils blend well together, you can gently warm them before application. Remember to lubricate your eyebrow scar with the cool mixture. Apply it daily, and after a few weeks your eyebrow scar will get less noticeable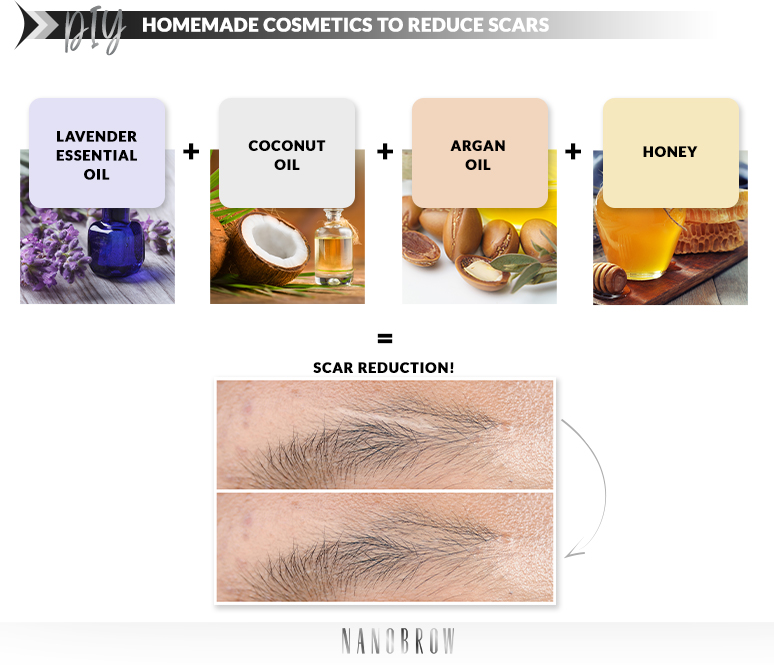 Eyebrow transplant
A brow transplant is a cosmetic procedure where hair grafts are transferred to your brow area. It is recommended for people who tried all other methods of camouflaging scars but they have all failed. It is also a rescue for people who have permanently lost their hair as a result of illness, chemotherapy, or radiation therapy. An eyebrow transplant is an excellent, yet expensive way to achieve durable and naturally full eyebrows. The procedure allows you to choose their shape, definition, and thickness. Eyebrow transplantation is performed manually with a method called FUE. The doctor collects hair follicles from the recipient areas, (usually the ear or neck area, they can also be taken from the chin in the case of men). The next step is to implant them into the empty areas on the eyebrows. The follicles are implanted at the right angle so that they grow in line with the natural direction of eyebrow hair growth.
Microblading vs. eyebrow scars
Many people wonder whether microblading can cover up minor eyebrow scars.
Of course, it can! Although it's more tricky to deposit pigment on scar tissue, due to the different texture of the tissue, the results can be very good. Sometimes an extra procedure is performed on the surface of the scar to ensure a durable and refined effect.
Brow henna vs. eyebrow scars
Brow henna is invariably one of the most effective and popular treatments. It adds color to the eyebrows and also the skin, so it works great for camouflaging small and shallow scars. Powder henna is a natural plant-based product. It is known and has been used for centuries to dye skin and hair. It's rich in excellent natural ingredients and delivers great effects in brow tinting while conditioning brow hair thanks to minerals and vitamins in its formula. You can successfully use it as an alternative to microblading. The effect lasts about 14 days on the skin and up to 6 weeks on brow hairs.