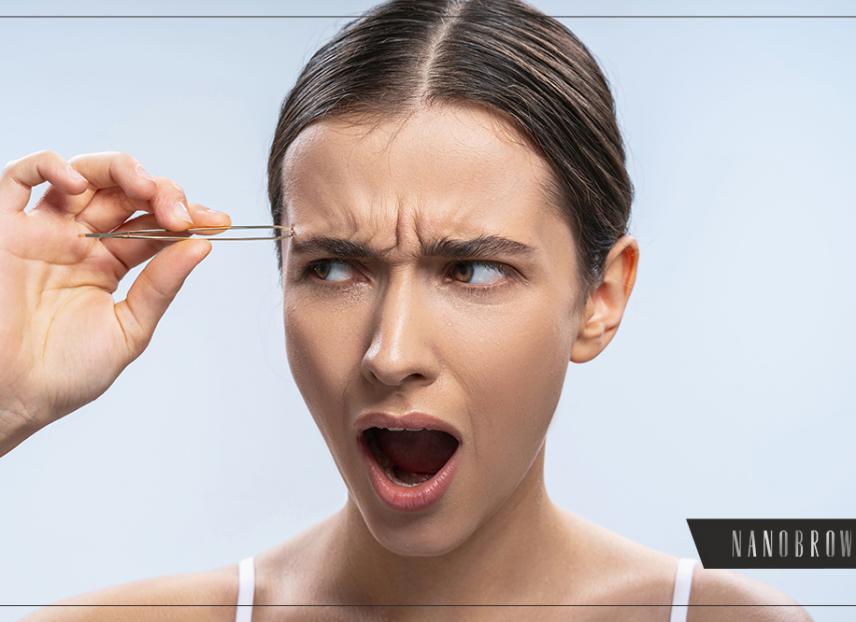 Brow make-up mistakes are very common. We also tend to skip proper eyebrow care or do our brows leaving them looking unnatural. As it usually happens, it takes a long time before we realize the mistakes we're making. Therefore, we encourage you to read about the most popular brow mistakes - make sure you don't make them and learn how to avoid them in the future!
Too long or too short arches
Symmetric brows are shapely as well as have proper length. When they're too long or too short, then they cause the disharmony and asymmetry of the facial features. In turn the face looks just bad. To get brows having the right length, you need a pencil, thin make-up brush or a food stick - press it from the dimple of the nose to the outer corner of the eye. The line will show you where your brow should end.
Wrong trimming
Brow trimming is a popular brow shaping treatment that aims to create the desired brow shape. For the best effect, you should trim only the start of the brows brushing them upwards. By doing so, you get neat and lovely arches. Sadly, some girls trim their brows throughout their length - it's popular among those with thick, bushy brows. They often end up with stringy hairs looking flat. To tame unruly brows it's better to use a tweezer.
Doing soap brows all wrong
Soap brows are one of the hottest brow trends! Soap brows look beautiful and natural staying perfectly shaped for the entire day. However, you need to remember to choose a quality brow soap which not only shapes the hairs but also adds shine, nourishes and leaves them more voluminous. Regular soaps (e.g. glycerin soap) set quickly and there's little time to do the brows right, plus they may harden and prevent application of make-up. For your best soap brows, use specially-devised soaps that are easier to manage and let you style the arches more easily. Ready-to-use brow soaps work best and you don't need to mix them with water because they already have the right texture.
Overplucked brows
Plucking some stray hairs is okay but sometimes we get carried away and tweeze way too many... Then we're left with patchy brows looking cartoonish or they're barely noticeable. When you shape the brows, you should outline them first - use a nude pencil for example. By marking the contours you know what your brows will look like after shaping. Make sure you tweeze only the hairs that are outside of the lines you drew.
Too bushy brows
Overplucked, skinny brows look weird, however, too thick, bushy hairs don't look good either. Avoiding the tweezers won't give you the natural charm and glow - the stray hairs don't make you look neat and may even bring disharmony to the face features. Remember that plucking just a few hairs is enough to get the freshness and stop looking angry!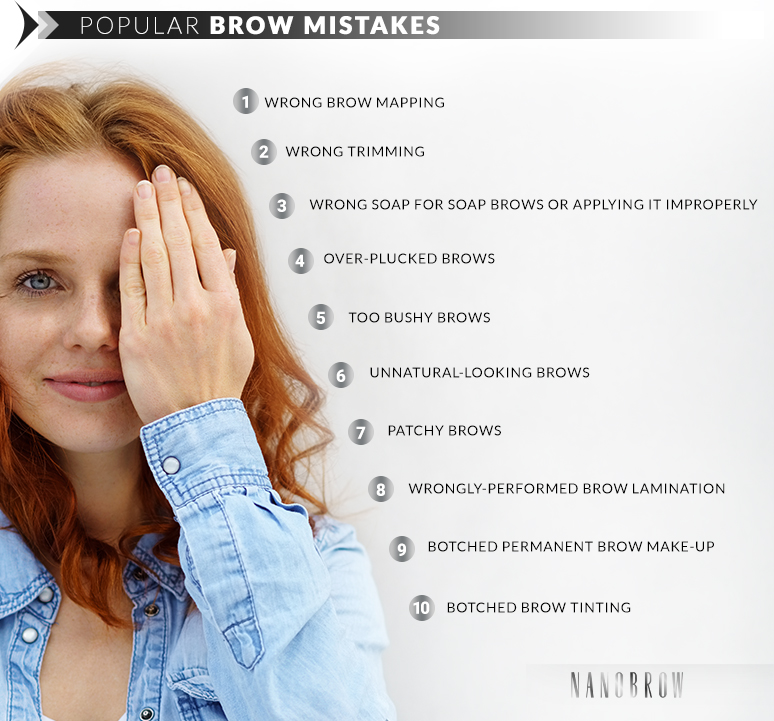 Unnatural-looking arches
Symmetry is extremely important when shaping the brows as well as applying brow makeup. Keeping the arches natural-looking is essential to harmonious face features. Too sharp or round brows as well as too high arch of the brows make us look funny and definitely don't add to attractiveness.
Too high arches will make you look surprised all the time while bold brows that are too close to each other leave people looking angry. If you want harmonious brows but you don't know how to create the right shape - book an appointment with an esthetician who will shape them so they are perfect for your facial features. Then you'll only need to tweeze the stray hairs from time to time. Get yourself quality tweezers and do it easily!
Patchy brows
Are your brows sparse, thin and patchy? Are there gaps in the brow arches?
You can camouflage them using make-up products (brow pencil, pomade, etc.) but you can also solve the problem and grow the brows using a quality eyebrow growth serum - regular application will make the brows regrow and also thicken them.
Failed brow lamination
Brow lamination is easy and trouble-free if you use the right set, detailed instructions, quality products and properly named bottles. The treatment may end up in failure if you keep the solution for too long or you don't follow directions for after-care. Many people make mistakes soaking their brows or applying make-up before twenty-four hours pass. This spoils the effect. Another mistake is using an eyelash lamination kit for laminating the brows. Remember: when doing brow lamination, always follow the manufacturer's instructions and choose only quality solutions such as Nanobrow Lamination Kit. It makes home brow lamination effortless.
Permanent brow make-up fail
Permanent brow make-up is one of the most popular treatments at the beauty salons. The new techniques create hair-like strokes imitating our own brows, which is why the treatment is getting more and more fans. What's more, permanent brows let us save lots of time and we can be sure they look great anytime. However, before you go for such a treatment, think of all pros and cons, and choose the right salon with a qualified brow technician. Permanent make-up has lots of contraindications and you have to tell the technician about all illnesses, skin infections, pregnancy, etc. Also, you should never skimp on microblading - don't choose inexpensive services or places that you know nothing about (their experience, diplomas or reviews). It's a permanent treatment which lasts for many years. Hasty decisions may cost you years of feeling unhappy with your brows, let alone the money spent.
Botched brow tinting
Using powder henna on brows is still one of the most popular semi-permanent brow treatments. Can you do it yourself? You can if you're skilled enough and you know what colors to choose for your beauty type. Remember that a qualified esthetician knows how to blend the colors to create the most lovely ombre effects - natural-looking color transition from lightest to the darkest hues. Remember to choose quality henna products. Chemical-laden henna dye is very likely to cause allergic reactions. Powder henna is rich in botanical extracts and powdered Lawsonia leaves.