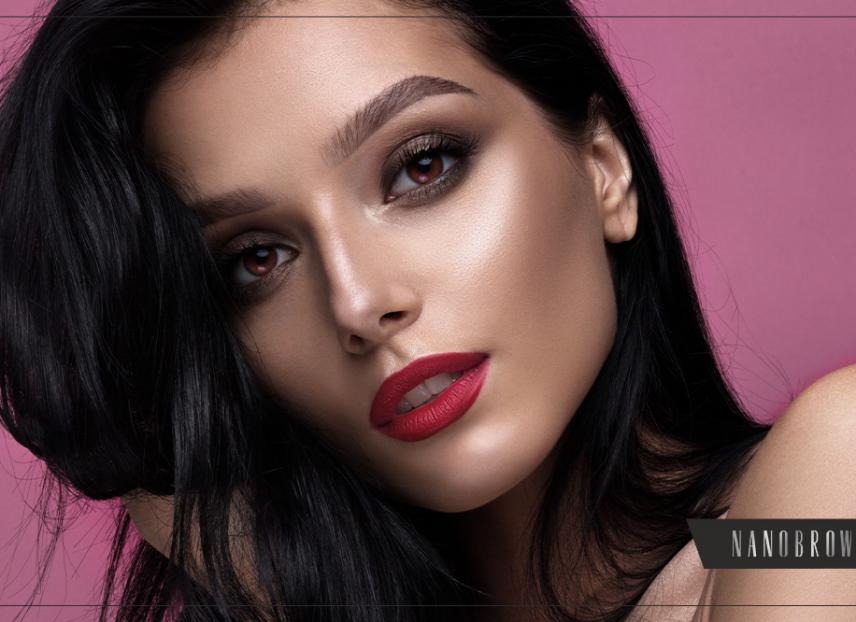 Ombre - colors progressing from light to dark - is the hottest trend in brow make-up. Such a shading technique allows us to create natural-looking and lovely arches. Do you know how to get the most popular brows from Instagram? Keep reading for the easiest recipe - learn how to apply ombre brow make-up step by step.
What are ombre brows?
Such brows don't have the same color throughout the length - the head of the brow is lighter and more delicate, the arch is slightly darker while the tail is highly saturated. Such a progression of hues gives us very natural-looking make-up. The brows look fleek, not exaggerated or cartoonish.
Ombre brows go with both casual, day make-up and special occasion make-up. Plus they work for any beauty type.
There's an unquestioned benefit, namely, we can create the effect using nearly every brow make-up product: brow pencil, powder, pen or pomade.
Before you start applying brow make-up...
... remember about daily brow care and tweezing because they're essential for any make-up to look good. If you want your brows to stay healthy and well taken care of, then you need to nourish them using a good nutrient-rich eyebrow serum. You can also use castor or argan oil as an addition to the brow care.
Ombre brows make-up step by step
Though such make-up requires some time, it's not difficult. Read our easy-to-follow tutorial that will lead you through every step. Using good-quality make-up products and knowing the tricks, you will quickly create natural ombre brows.
STEP 1 PREP YOUR BROWS
Remember that your brows need to be clean and dry before applying make-up. Sprinkling some powder across the brows is the first step. By doing so you make sure your make-up products stay put so the effect is nicer and lasts longer.
STEP 2 OUTLINE THE BROWS
Drawing the lower brow line is the second step and it can't be skipped - the final effect depends on whether you do it right or wrong. Do it carefully using a pencil, pen or pomade applied with a thin brush. Don't make it too thick but it must be bold enough to show the head and tail of the brow.
STEP 3 FILL IN THE BROWS
The next step involves putting color on the brows and filling the gaps in the brow arches - if there are any. If you've got patchy brows, you can draw the hairs using a brow pen or pomade: use quick brushstrokes, following the natural growth of hairs. That's the only way to make them look natural.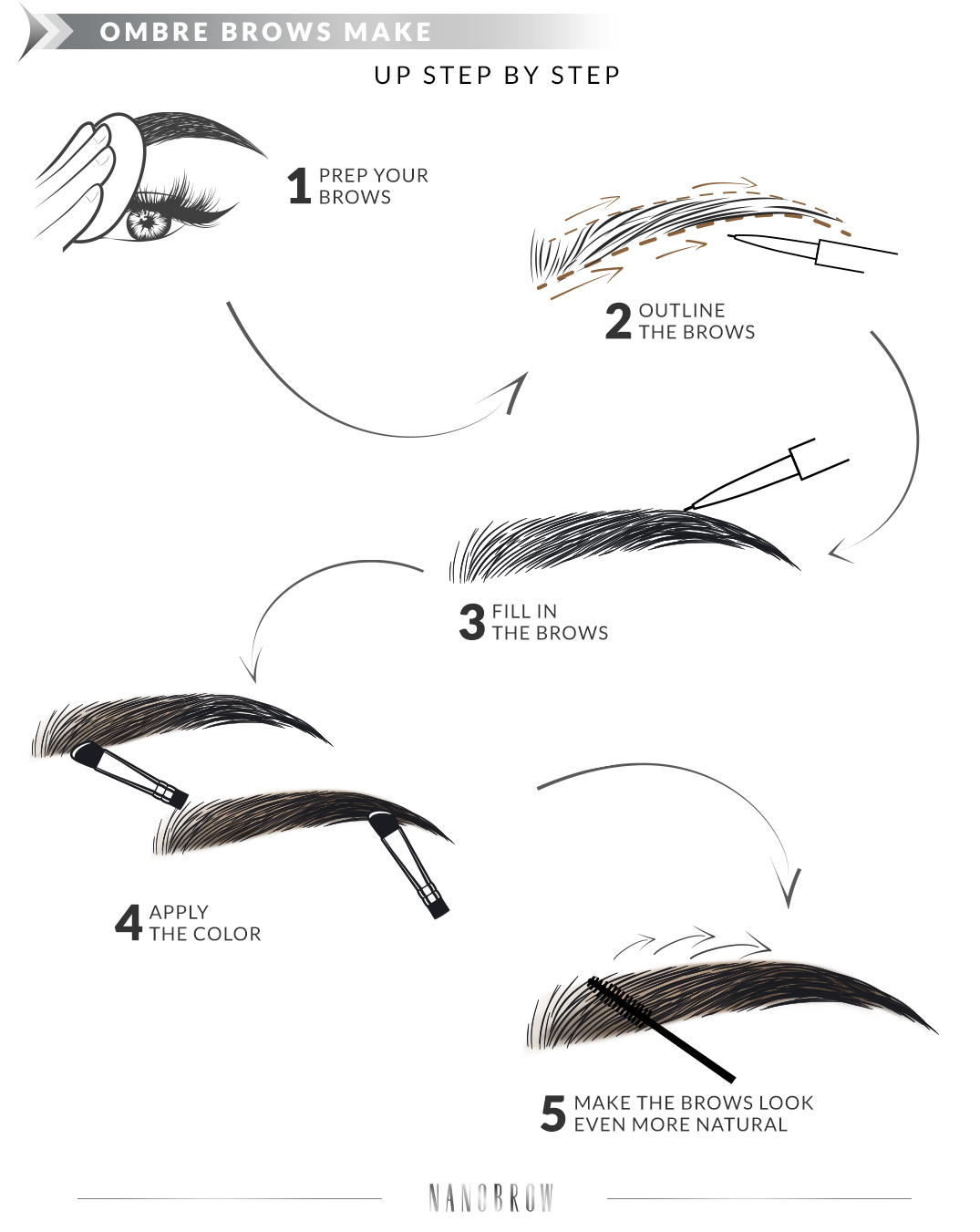 STEP 4 APPLY THE COLOR
To create ombre effect, you need at least two colors - naturally, they should go well with your brow color. Make use of brow make-up kits - they're cut out for this purpose, and usually consist of wax plus two colors of the same tone - light and dark. Apply some wax across the brow hairs so that the powder is spread easily. Now, apply the lighter color from the head of the brows to the highest point - the arch. It's time to take hold of the darker powder and gradually add more color - start at the arch and move towards the tail. The light and dark colors should be smoothly progressing, which guarantees natural-looking ombre effect.
STEP 5 MAKE THE BROWS LOOK EVEN MORE NATURAL
As a finishing touch, we suggest combing the brows with a spoolie brush - especially the head and arch of the brows. This is how you soften the sharp edges. Do that gently and don't press the spoolie too hard. You want to soften the contours, not wipe the color off.
STEP 6 MAKE YOUR OMBRE BROWS LAST
And the final step for long-wear make-up and even better-looking brows: set the brows using a clear brow gel. It will allow you to take control of unruly hairs and get the desired shape, plus make them stay in place for longer. Such a gel will stop make-up from rubbing off in the middle of the day. Your ombre brow make-up is done!
Ombre brows - traditional or permanent make-up?
Ombre brows is an extremely popular permanent make-up technique. More and more women go for it - a pro brow expert can create a very natural effect faking our own brows. It may be a remedy for those with very thin and sparse brows who don't like or for some reason can't fill them in every day. No matter how old you are you can get them done. You should know that there are different techniques and a brow esthetician will surely help you pick the right one for your beauty type. Before deciding on permanent brow make-up, we advise you to catch up on the contraindications, all available methods, and before and after-care indications.