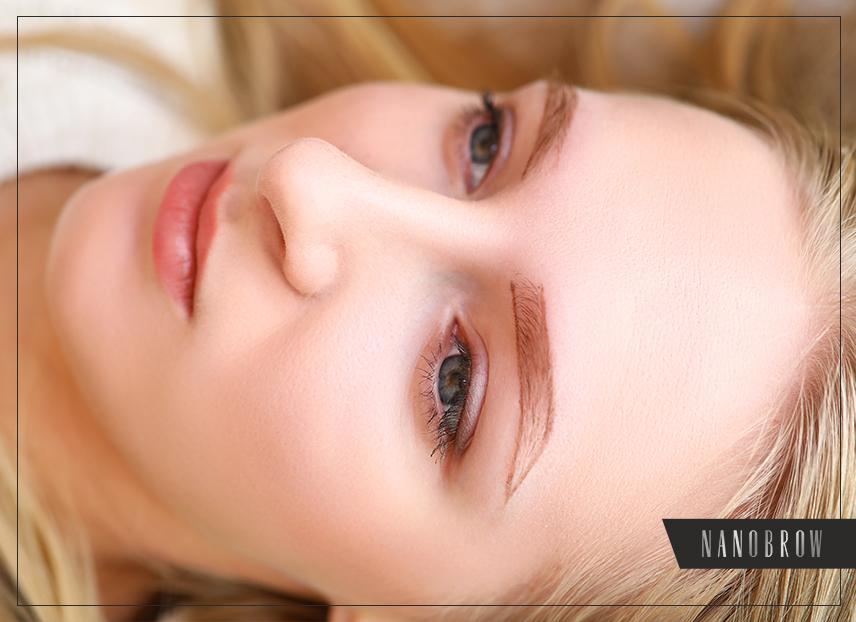 Are your brows naturally dense and shapely but have started to thin recently? Are there gaps in the arches? Patchy brows are the unwanted beauty flaw, not adding to attractiveness, for sure. Thankfully, there are ways to camouflage them - either with make-up or some more invasive procedures. Keep reading to learn how to hide the gaps in the brows.
Patchy brows - causes
There are many causes of gaps in the brows - they get worse due to various reasons. The most common causes include stress, inadequate brow care or medication. In extreme cases, eyebrow loss is caused by health conditions: diabetes, thyroid or liver disorders, discoid lupus erythematosus, sebaceous dermatitis, oriental sore, etc. Gaps in the brows may also be the result of fungal infections or parasites e.g. mites which feed on the dead skin cells. Also, the condition of hair, including brows, gets worse because of deficiencies of vitamins and other important elements that nourish tissues and hair follicles. What causes brows to thin?
Causes of thinning brows
Poor quality make-up products
Allergic reactions to cosmetic ingredients
Thyroid disorders
Weakened immune system
Deficiency of nutritional ingredients
Chronic stress
Chemotherapy
Alopecia
Dermatological conditions (e.g. atopic dermatitis)
Sleeping with make-up on
Parasites (mites)
Some medications (e.g. strong antibiotics)
Age (menopause)
Pregnancy, postnatal period, nursing
Over-tweezing
NOTE!
Remember that it's natural that hair falls out - it is one of the stages of a hair life cycle. However, it's time to take action when the brows start thinning: see a doctor for a check-up, strengthen the brow hair, and camouflage the gaps using quality make-up.
How to fill in sparse areas in the brows?
Thankfully, there are easy ways to camouflage and fill in the sparse spots. All you need is quality make-up. Naturally, you can go for more advanced methods that are available at brow salons. Keep reading to find out how to handle patchy, thinning brows.
How to fill brows easily?
Applying brow make-up is the most obvious and the least invasive way to handle sparse brows. How to do brows which have gaps? Here's a guide to fill in thin brows easily.
STEP #1 Prime your brows, tweeze them if necessary
See if your brows have the desired shape and if tweezing is necessary. Cleanse the brow area, dry it, and comb through hairs with a spoolie to show them the desired direction.
STEP #2 Create base for make-up products
If you decide on brow powders, then apply some wax/primer that should go with the set. By doing so, you make sure the powders cling to the brows and stay long, plus you leave the colors more intense. If you apply brow pencil or marker, then prep the brows by applying a tiny amount of a liquid concealer - it will make make-up easier to apply and extend its life.
STEP #3 Define your brows
Use a brow pen, pencil or pomade and lightly outline the contours of the brows, creating the dream shape. Remember that the lower line should be bolder.
STEP #4 Draw individual hairs
Now, you can move on to drawing hair-like strokes in the sparse areas. A special brow marker is a perfect tool for this purpose. It creates effects imitating microblading technique. Nanobrow Microblading Pen is precision and highly pigmented, providing long-lasting effects. The brows have intense color but look very natural. With the pen you can make the brows look much thicker easily. Draw the lines where you see the gaps and make sure they go in the same direction as your own hairs.
STEP #5 Fill in the brows
Time to apply make-up throughout the brows - use powder, pencil or pomade and fill in the arches. Remember to keep the start of the brows lighter and give more color on the tail. With two colors in the Nanobrow's eyebrow powder kit, you can create beautiful ombre effects. They blend easily for a smooth transition of hues from the lightest to the darkest.
STEP #6 Softening the contours
To keep the brows looking natural, you can do something more than blend the colors - brush through the brows to soften the upper brow line and get rid of sharp edges which probably give you the angry look. If there's a visible line between the colors then you need to blend it and make sure there's a smooth transition of hues.
STEP #7 Make the lovely brows last
Finally, get a setting brow gel, clear or tinted. Apply it on the brows and comb through them keeping the desired direction. The gel will keep them flawless for many hours as well as leave them thicker-looking adding fullness.
Eyebrow extensions: what are they?
If you don't like or don't want to fill in your brows every day, you can try an unusual option which involves applying fake brow hairs in the sparse gaps. It's useful for those with naturally thin brows who want to thicken the arches and camouflage the gaps or scars in the brow area.
It's a simple technique: tiny fake hairs are attached to your own brows and stay untouched for 2 to 3 weeks. After that, you need to get another fill-in. While wearing the fake extensions you need to avoid oil-rich products or touching the brows.
Semi-permanent brow tinting: henna
If the gaps aren't big, you can camouflage them by tinting the brows. Powder henna is made for this purpose because it colors both the hairs and the skin - the brows look fuller and all gaps are hidden. Henna lets us enjoy perfect brows for many weeks but you should know that it fades from brows more quickly than from head hair so you'll need to get it done more often.
Permanent options: brow tattoo
This remedy for patchy brows produces the longest-lasting effects. Brow tattoo may last 3 years or longer. It leaves the brows looking thicker and creates the desired eyebrow shape. Permanent make-up involves tattooing hair-like lines and subtle shading to cover the gaps and leave the arches shapely. There are many fans and opponents of brow tattoos. This method has many contraindications, and it's good to know its pros and cons before getting it because the effect lasts for years.
Without doubt, good old make-up is the least invasive and the easiest way to thicken the brows and camouflage the sparse areas. All you need is some time, minimum effort and quality make-up products - perfect brows are within your reach!