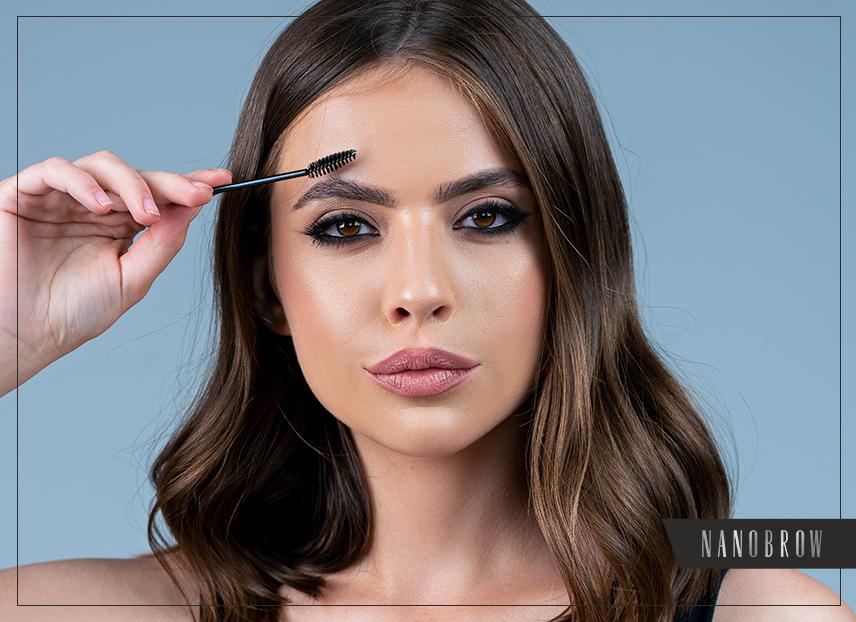 Thick, natural-looking, a bit messy brows have been the hottest brow trend for a long time. You're lucky if yours are dense and bushy - you don't need to put in much effort to style them. Merely enhancing them with some make-up will do. However, what if brows get unmanageable and stick out? Brushing them with a spoolie may not be enough. It's good to get the right products to create perfect shape and make it stay. Keep reading to find out how to tame thick brows!
How to handle bushy brows?
Probably every woman dreams of thick, full, bushy brows, however, exaggeration is never good - thin, skinny brows as well as too thick, unruly hairs don't make us look our best. How to take control of them? Properly-done shaping is the secret. If you don't know how to do it right, then entrust them to a brow expert who will do brow mapping and create symmetric arches, plucking any stray hairs. Trimming is also a good remedy for handling big brows - remember not to trim them throughout the length. This method is good for doing the inner side of the brows (the lower line). When trimmed well, the brows won't look too dense or messy. You can trim the hairs on your own but we recommend booking an appointment with a qualified brow stylist.
What to use on bushy brows?
There's a misconception that thick, bushy brows don't need any care - not true! Any type of brow hair requires daily care and attention. Harsh weather conditions (minus temps., UV radiation, strong sunlight), stress, lack of daily brow care, medication or poor-quality cosmetics - all of these things make the brows worse and cause them to fall out in excess, look dull and become unmanageable. Vegetable oils may prove useful, for example castor oil that can be rubbed into the brow hairs once a day to keep them healthy. Also, an eyebrow serum is a wonderful product - a good one contains botanical extracts and other nutrients to nourish, strengthen and improve the brows.
How to style and groom thick brows?
Even after filling in the brows they may end up looking bushy and unruly if you don't use products that hold hairs in place. A brow soap or clear brow gel are appreciated and hailed as the best setting products for those with bold and bushy brows.
Using soap to style the brows has been a popular beauty hack for decades. A regular glycerin soap would be the only choice in the past. It had to be mixed with water and often caused trouble: the texture didn't help much, hardening before the desired shape was created... The modern-day soaps have the proper texture so we can easily scoop a bit and apply it directly on the brows. They don't harden right away so we have enough time to style the brows. On top of that, the final result is much better because brow soaps are enriched with shine-boosting ingredients.
A brow gel is a brilliant product to finish make-up and make it last for longer. It's available in clear and tinted versions. If your brows are nicely shaped and need just setting or you're a fan of natural-looking no make-up make-up, then try a clear brow gel. It's also great as a finishing touch after applying other make-up products - it will make them stay put and flawless for longer. If you want a color boost, then go for tinted brow gel choosing the hue that's most similar to your natural brow hair. Use it solo or as the last stage of make-up.
How to apply make-up on thick, bushy brows?
1. Brow shaping is the priority - without it, even a pro make-up and the best products will fail. Shaping and tweezing is an essential element of brow care if you've got thick, bushy brows. It's good to get it done by a pro from time to time. On a daily basis you can pluck the stray hairs on your own.
2. If you've got unruly brows which tend to crease and stick out, then you need a spoolie and the above-mentioned soap or brow mascara to shape them and enhance their color. If you use the soap, you can apply make-up next, e.g. powder or mascara.
3. A brow mascara looks like a regular mascara for lashes, but it contains special pigments for coloring, nourishing and taming the brows. Its texture will let you style the arches without clumps. The best brow mascaras will keep your eyebrows fleek all day.
4. Eyebrow powder kits with wax are great for thick and bushy brows. You can use them to create the trendy, natural-looking arches that have taken over Instagram. First, shape the brows with wax. Next, enhance them using the powders. To make them last and add volume, apply some brow gel.
Make-up products for thick brows
Are you looking for the best make-up products to do your thick bushy brows? The above-mentioned brow gels and mascaras are perfect for shaping and styling. In some cases, even thick brows have some gaps - you can camouflage them using a brow pencil or marker which creates hair-like strokes imitating real brows. Brow powders are brilliant for both thin and bushy brows - the powdery texture enhances the color, hides the gaps and allows you to create elegant ombre effects. The added wax holds the unruly hairs and keeps them in shape.